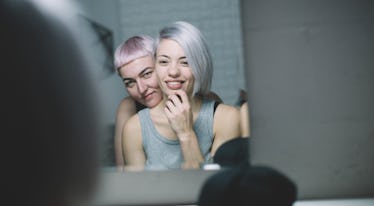 3 Red Flags You're Dating A Chronic Liar & Should End Things ASAP
Women's intuition is not a myth, y'all. We're perceptive AF, and even though not all of us can tell when we're being lied to, many of us can tell when the person we're dating is being sketchy. Being in a relationship with someone whose dishonesty is apparent from the very beginning is probably not the best idea, but a lot of times, you don't know you're dating a chronic liar until it's too late.
It's important to note that little white lies (while still not always OK) are different from big fat ones. If you and your partner are doing, like, the Paleo Diet together, and they fib about what they had for lunch because they were hella hungry and couldn't take it anymore, maybe you shouldn't express utter rage like you would if you'd found out that, oh, I don't know, they've been lying about having non-Paleo lunch with an ex every day for the past five months. One thing is significantly worse than the other, so being able to differentiate what's cause for concern and what isn't is really important if you want to avoid big blowups.
The thing is, everyone lies. Whether we like to admit it or not, we've all lied here and there; the size of our lies is what's important. If your partner is usually very truthful but throws a little, "Yeah, I took out the trash last night," your way, even when they totally didn't, then it's probably not a big deal, as long as this doesn't happen all the time. But, if your partner lies constantly about where they are, what they're doing, who they're with, and how they feel, you should probably have a conversation.
Some partners are really bad liars. Their faces change when they're being dishonest, they're really indiscreet, and they demonstrate sketchy behavior. But beware of the lying partner who's good at it. Their tactics might be way more practiced, and however strong your women's intuition might be, they can usually get away with anything because they know what they're doing. Keep an eye out for these signs you're dating a chronic liar.