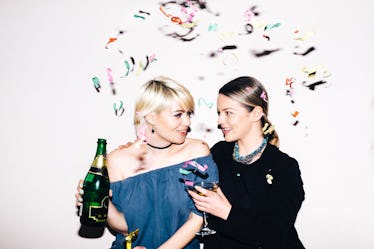 5 Signals You Can Spot From Body Language That Prove They're Into You
Do you ever wish you could read your dates' minds? That you could look at them and know what they are thinking and feeling, and if they are as into you as you are them? Well, that's kind of what body language is like. It may not give you a perfect read on someone's mind, but it can offer helpful hints that give you some genuine indication of how someone feels about you. By knowing what kind of body language that proves they're into you, it becomes a lot easier to know if someone's interested and their intentions are good, or if they may be stringing you along. Which, honestly, is everything.
But how accurate is body language? According to Traci Brown, body language expert and author of Persuasion Point: Body Language and Speech for Influence, it's pretty spot on. "Body language is an excellent indicator of what's on people's minds — and the things they're not saying," Brown tells Elite Daily. "It's really accurate up to 80 percent." That is a game-changing number. So, it's time to learn what to pay attention for the next time you want to be a whole lot more confident about knowing what is in your date's heart — and the red flags, too. Here is what the experts say to be on the lookout for that will prove if someone is really into you.