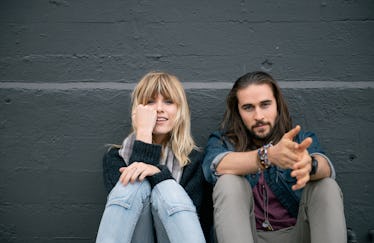 5 First Date Body Language Clues That Could Prove They're Totally Into You
The first time you meet someone, it can be hard to tell for sure if you're actually vibing. Even if you think they're all that and a bag of chips, you might not be sure they feel the same way about you. Before you panic, instead of focusing purely on what they say on the date, it's never a bad idea to read between the lines. Learning to interpret body language clues on a first date is actually way more straightforward than it sounds — as long as you know what to look out for.
While it can be all too easy to harp on the things your date does (or doesn't) say, verbal communication is just one part of the story. For the most part, we're in full control of what we say and how we say it, but often, our body language paints a pretty accurate picture of what's going on inside our heads, on both a conscious and subconscious level.
The only way to know if your date likes you for sure is to ask, but this is just about one of the most awkward questions to spring on someone you just met. If you're interested in gauging your date's interest level without things getting totally awkward, being observant is definitely a solid way to go. I spoke with body language experts Traci Brown and Patti Wood to get an idea of what physical cues to look out for.