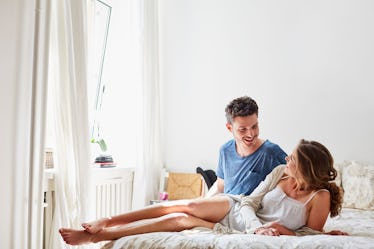 Here's How To Have Safe Sex When You're Dating People Casually, So Take Notes
Safety should be a priority for anyone who's having sex, period. Whether you're in a monogamous relationship or you're casually dating more than one person, not practicing safe sex can come with serious consequences. If you're not dating someone monogamously and you're wondering how to have safe sex when you're dating people casually, then you've come to the right place. It's so important to take control of your sexual health, explore what options are best for you, and decide what method (or methods) you want to put into play in the bedroom and in your everyday life.
"The consequences of unprotected sex, whether disease transmission or unwanted pregnancy, can have long-lasting impacts on your life," Good Clean Love founder and psychosexual therapist Wendy Strgar previously told Elite Daily. "I don't think any sex is worth risking your health and future over." Here's what you can do with the people you're casually dating to lessen your chances of pregnancy and STD transmission. And if anyone you're sleeping with doesn't want to practice safe sex and gives you excuses, don't be afraid to show them the door. You are your first priority, and anyone who doesn't understand that doesn't deserve to have sex with you anyway.