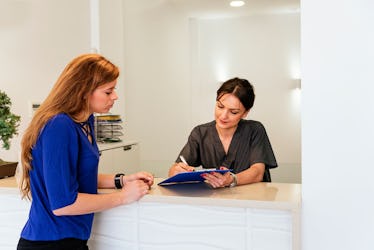 4 Totally Normal Things That Happen When You Get Tested For STDs, So You're Not Surprised
Going in for STD testing can feel really scary if you've never done it before, but there's nothing actually scary about getting tested. It is such an important part of maintaining your regular sexual health, because ignorance isn't bliss when it comes to your body. If you don't really know what to expect, knowing some of the normal things that happen when you get tested for STDs may help ease the anxiety you may feel. Honestly? It's really NBD.
"You don't know if there is a problem unless you screen for it!" Dr. Sheila Loanzon, obstetrician and gynecologist, tells Elite Daily. "Majority of the STD testing done is negative, however you won't give yourself the peace of mind and reassurance of negative testing unless testing is completed. Often STD symptoms may be silent or asymptomatic, so don't let an opportunity pass you by. It is better to know and get treated than to miss out on an opportunity to be ahead of your health." Taking the fact that most testing comes out negative into consideration should be somewhat comforting. But you won't know for sure if it applies to you unless you keep your fears from taking over and do it.
"There are several ways that a patient can be tested for STDs," Dr. Loanzon says. "Generally, a lab order can be given to test blood for HIV, syphilis, hepatitis B and C. To check for gonorrhea and chlamydia, an option may be to give a urine sample (read: no need to be seen in the office) versus a speculum exam in the vagina to obtain a cervical swab for a culture."
Now that you have a general understanding of what to expect when you go in for STD testing, here's a breakdown of what your STD screening process might look like.