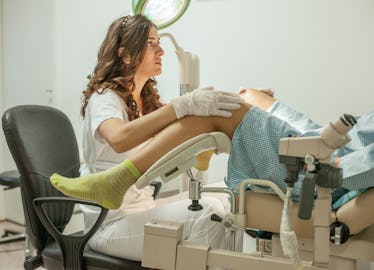 This Is How Often You Should Get Tested For STDs To Stay As Safe As Possible
I attended all-girls Catholic school for many, many painful years of my life. Naturally, my religious studies teacher at the time was also trusted with the title of biology teacher, which gave her free rein to teach us all that boys were gross and sex would kill us. That's it. Nothing else to learn here, kids. There was no talk about how often you should get tested for STDs or why safe sex was about more than just avoiding an unwanted pregnancy. For the record, getting pregnant at my high school meant immediate expulsion for students and something horrifyingly similar for unmarried female teachers. Yay for the patriarchy.
Anyway! The point is there's a lot I didn't learn in school about my sexual health, rights, and responsibilities (besides keeping my chastity belt on nice and tight, of course). As an adult, I've made a conscious effort to take control of my sexual health, which, I have to admit, makes me feel more confident in the dating world. I get tested regularly so that I'm safe but also because I enjoy being able to confidently communicate this with any new partners.
In fact, sharing my own status is usually how I start the conversation about whether or not they have been tested recently. And BTW, you should always ask your sexual partners if they've been tested, how long ago they were tested, and whether or not they received any positive test results. They may not know their current status or choose not to share this with you.
To make sure we're all the same page here, I asked Dr. Cindy Duke, OB-GYN and medical director of the Nevada Fertility Institute, how often you should get tested and here's what she had to say.