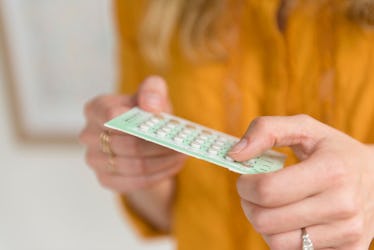 6 Hormonal Birth Control Methods You'll Want To Write Down ASAP
From condoms and birth control pills to long-acting options like IUDs, there are many birth control options to choose from, and each has its own unique set of benefits. Without a doubt, hormonal birth control methods are among the most popular types of contraception. According to VeryWellHealth, these contraceptives emulate the naturally-occurring hormones that a woman's body produces, thereby preventing the sperm from fertilizing an egg.
Unlike condoms, hormonal birth control methods are not available over the counter and must be prescribed by a doctor. There are two types to choose from: combination birth control, which contains both synthetic progestin and estrogen; and progestin-only birth control, which does not include estrogen. One top reasons why these methods have become increasingly popular is that they're super effective when used correctly. Many of them are also super convenient — in fact, some methods don't even require you to remember to do anything. And since these methods are reversible, you still have the ability to get pregnant after you stop using them. Plus, many hormonal birth control methods offer some pretty amazing perks beyond preventing pregnancy. For example, the pill has been known to reduce those pesky menstrual cramps, as well as to help clear up acne.
If you've been considering trying out hormonal birth control, it's crucial to weigh your options. Here are a handful of the most popular methods.