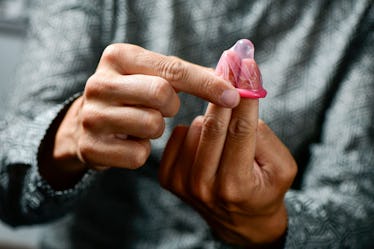 6 Non-Hormonal Birth Control Methods That Are Totally Safe, According To Experts
Since everyone's body is different, finding the right type of birth control for you is a process that may take some time. For anyone looking for an alternative to hormonal birth control, the good news is that there are several options out there. When used correctly, non-hormonal birth control methods are an effective way to prevent pregnancy without the use of added hormones, if that's what you prefer. According to Planned Parenthood, even though hormonal birth control has been proven to be safe for many people, this doesn't mean it is the best choice for everyone — especially if you have underlying medical conditions.
"Like with all medications, the pill isn't for everyone," reads the Planned Parenthood website. "Your doctor will help you figure out if the pill is safe for you." If you've decided to forgo hormonal contraception due to unpleasant side effects, according to Jess O'Reilly, Ph.D. and host of the Drive Him Wild video course, non-hormonal birth control may be a good option for you. "Those who report issues (e.g. nausea) with hormonal birth control may find that their symptoms subside when they switch to a non-hormonal birth control," O'Reilly tells Elite Daily. "You know your body best, so if you have a reaction to any birth control (hormonal or not), speak to your health practitioner about other options. Even if your side effect is rare, it's affecting your body, so don't be afraid to speak up and be your own health advocate." That said, here are six types of birth control to consider that don't involve hormones.