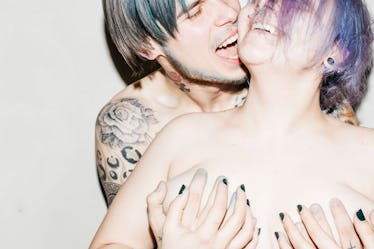 Here's Why Unprotected Sex Isn't More Intimate, According To Sex Experts
Have you ever been about to hook up with someone, only to have them try and refuse to use a condom because they say it's more intimate to have that direct contact? Even for folks who really believe in always practicing safe sex, the promise of greater intimacy might sound like a really compelling argument. After all, who doesn't want to feel closer to someone they care about? But is that even true? Is unprotected sex really more intimate than having sex with a condom?
Since there are so many risks associated with having unprotected sex, like STIs and pregnancy, you really should know if what you gain by losing that safety is worth it. So I reached out to a couple of sex experts to ask if it is really true that going condom free will help improve your intimacy with your partner, or if that's just an excuse people use to skip out on barrier protection. And overwhelmingly, the answer was no! As it turns out, having sex with a condom is way more more intimate, for a handful of reasons. Here's why the experts say, if you want to be more intimate with your partner, have protected sex.