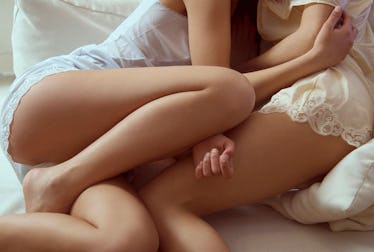 8 Really Easy Tips For Taking Care Of Your Sexual Health This Year
You probably get plenty of reminders to exercise often or eat your veggies (thanks, Mom). You probably haven't heard many sexual health tips because they can be harder to casually slip into conversation. Just because a reminder to get tested isn't slipped in with the eat your veggies advice, it doesn't mean it's any less important. Taking steps to be sexually healthy is easy to procrastinate when we have so much else going on in our lives — especially when fall rolls around. We're moving into a hectic time of year with back-to-school season, the holidays approaching, and more. While you're picking up new school supplies and laying out your holiday travel schedule, why not take some simple steps to be a sexually healthier you?
Having good sexual health practices may seem complicated, but it's actually simpler than you might think. If you make a few tiny adjustments right now, like setting an alarm on your phone, you're setting yourself up for a healthier year. Basically, set it and forget it — do a little work now so you can be safe and healthy all year long.