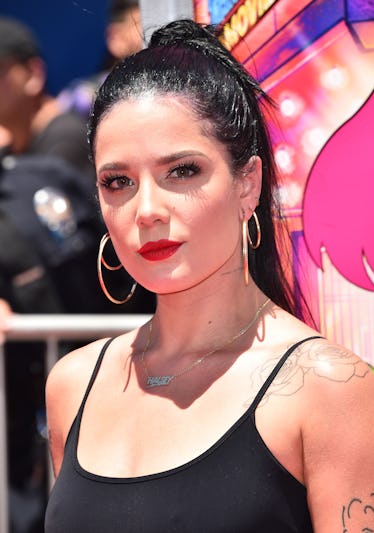 Halsey Revealed What Her Natural Hair Looks Like & Obviously, It's Undeniably Gorgeous
Alberto E. Rodriguez/Getty Images Entertainment/Getty Images
As a celebrity in 2018, it's not exactly easy to stand out anymore. Every event is an opportunity to debut a new look or make a statement, but with so much going on, it can sometimes be one big, stylish blur. However, singer Halsey, to me, has always been one of the few never to get lost in the crowd. Even though she regularly changes up her appearance, it all feels authentically her. So much so, in fact, that I didn't even realize, that up until now, I hadn't ever really seen Halsey's natural hair, which (spoiler alert) is mind-bogglingly beautiful.
If you aren't aware, 2018's resident cool-girl Halsey has been very vocal in the past about how proud she is of her mixed heritage. Her father is African American and her mother is Italian and Hungarian, and even though she occasionally passes as white, she is keen to let others know exactly where she stands. In an interview with Playboy, she proudly declared, "I look like a white girl, but I don't feel like one. I'm a black woman. I'm proud to be in a biracial family, I'm proud of who I am, and I'm proud of my hair." Yass, girl! We love a confident, outspoken, stunning role model!
Cue this lil mirror selfie, recently posted to her Instagram, featuring something we've rarely seen: her natural hair.
Stunning, am I right? She even went on to post a throwback for anyone doubting that her curls were the real deal:
I'm obsessed not only with how great her hair looks, but with the fact that she is comfortable and proud enough to embrace her gorgeous strands, and will likely help others to do the same. At a time where beauty standards are unreasonably high, it's refreshing to see celebs who are so much more than the stereotypical Hollywood mold embrace the parts of their beauty that make them unique, not hide them away.
Of course, that's not to say Halsey can't rock a great wig or a dyed 'do every now and then, because believe me, she can and she will:
And let's not forget the style that put her on the map — her "Everything is blue" oceanic strands:
If you're wondering why she hid her hair away under wigs for so long, she shared on Twitter that it was all a part of her regrowth strategy, after shaving it all off back in 2015:
While most fans were totally thrilled to see Halsey embracing her strands, others refused to believe that a white-passing female could have such gorg natural texture, and they even accused her of wearing a wig, which she quickly took to Twitter yet again to clarify.
There's no doubt her natural hair is stunning, and while she can certainly rock a good wig, I really think it's time for her curls to have a serious moment. Just when I thought I knew everything about Halsey, she's given me yet another reason to refer to her as 2018's resident cool-girl.