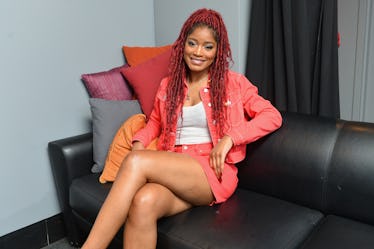 Keke Palmer Revealed Why She Struggled To Embrace Her Natural Hair & Why She's Doing It Now
Noam Galai/Getty Images Entertainment/Getty Images
Going natural isn't always easy for everyone — even when you're a big star. But it's always refreshing to see celebrities coming forward and being transparent about the struggles black women still face when it comes to hair acceptance, despite curls and kinks becoming more and more normalized. So when fans learned the latest on Keke Palmer's natural hair journey, many could relate to the actress' plight.
Posting on both Instagram and Facebook on June 26, Palmer shared a photo of her hair braided back into cornrows, along with a touching caption that many black women who've gone through a hair transition can relate to.
"Last year I shaved all my hair off, some of y'all may remember, and I'm rocking it as it's growing back in Budapest," the 24-year-old wrote. "I was so disappointed in myself the other day when I got embarrassed that an old friend saw me here in Budapest with my hair in its natural state! How foolish of me, why should I ever be embarrassed of who God made me to be?"
The star then went on to explain why her acting career affected her ability to accept her hair in its natural form.
"For my characters I am flexible and I feel there is no problem with a weave or a wig or extension every now and then!" she shared. "It's fun but I had to check myself when I actually felt that I in some way wasn't 'dressed' because I had no wig on. Or that because I'm not in my own country I can feel more 'free' to rock my own hair. One should feel free at all times!"
Palmer ended the post on an inspiring note, telling others who have ever shared similar feelings that there's no shame involved with just being and loving yourself.
"To all my girls out there, we are beautiful at all times but ESPECIALLY in our natural state!!" she said. "We should never get so caught up in the 'play' that we get disappointed in the R E A L. I love you guys!!"
Palmer isn't the only young Hollywood star to struggle when it came to accepting her natural curls. Dear White People star Logan Browning recently opened up to Glamour about her hair journey, revealing that, at one point ,that she wasn't even aware of her texture. Thankfully, now she is loving her natural hair.
"I thought that straight hair made me pretty," she confessed to the publication. "And [when I was] growing up in the South, getting my hair done once a week was a thing. By college, I had never seen it curly. I was curious. I don't even know how to explain the feeling that I get from being a curly girl. There's a whole new personality."
Over the past decade, we've seen more and more black women tossing away chemical straighteners and opting to invest in natural haircare. As a result, relaxer sales have declined rapidly. And in 2015, Atlanta Black Star reported that the black hair industry was aimed to be worth over $774 million.
Mainstream publications have embraced the movement as well. For Allure's March 2018 cover, Academy Award-winning actress Lupita Nyong'o wore stunning beaded braids, styled by none other than natural hair expert Vernon François himself.
"I like the term 'kinky.' Some people don't like that term, but when I think about my hair, I think of it as African kinky hair," Nyong'o shared inside the glossy.
François agreed, adding, "Lupita and I wanted to show that coil-y or kinky hair has many strengths and can be worn in lots of different ways, celebrating its beauty and versatility. Loving your true texture is important."
I couldn't agree more!