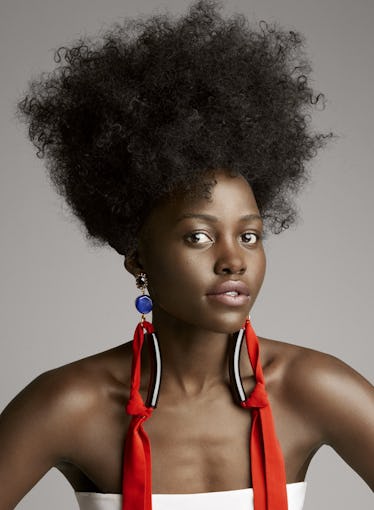 Lupita Nyong'o Styled Her Own Hair For A Magazine Cover & It's So Powerful
Lupita Nyong'o stole my heart when she rose to stardom after 12 Years A Slave, and I can hardly wait to see her in Black Panther. Her red carpet looks are always killer, but this time, as the star of Allure's March 2018 issue, Lupita Nyongo's natural hair is the star of the show.
Nyong'o is one of my top five Hollywood girl crushes, her look at the 2014 Oscars killed me dead. The actress seems to slay everything that she touches, and most recently, it's her own hair. Lupita is Allure's March 2018 cover star for the magazine's "The Culture Of Hair"-themed issue and Nyong'o and her hairstylist were given free rein to show off her beautiful hair however they wanted.
The resulting images are indisputably stunning, and the fact that Nyong'o had so much creative input on her look makes it that much more significant. As someone who's worked on similar shoots, I can tell you that the photographer and magazine editors typically run the show and have the final say on all looks, so it's refreshing to see a self-styled beauty shoot. Nyong'o has had issues in the past with magazines altering her appearance, so I can only imagine how happy she was to be given this creative license.
The cover shows Nyong'o in shoulder-length braids adorned with beads and hair charms. Nyong'o looked to her friend and hairstylist Vernon François to create this and her other looks. François spoke to Allure about their decision making process for the cover;
We wanted to make [the braids] traditional, forward-thinking, and honest, which is exactly what we did. Lupita and I have wanted to create a braid look like this for some time, and having the chance to do it for Allure was a dream come true.
François used products from his own namesake line to help get the look, including Vernon Francois Scalp Nourish-Ment Braids And Locs Spray ($24; sephora.com) and Vernon Francois Leave-In Conditioner ($28; sephora.com).
"Don't be afraid to repurpose things; choose different metallic colors and finishes," François says about Nyong'o's hair accessories. "It's always a collaborative, creative process when Lupita and I work together. We bounce ideas around and get excited about the possibilities — and about resetting expectations for hair."
For the embellished braids, François picked up beads and other charms from local hair stores, but you can get similar accessories online. Teemico Dreadlock Beads ($8; amazon.com), Twist Braid Snap Medium Hair Beads ($6; twistbraidsnap.com), and Fulani Braid Charms ($5; etsy.com) will get you almost the exact same accessories at Nyong'o.
Nyong'o's second look was a more voluminous natural hair style. "Lupita and I wanted to show that coil-y or kinky hair has many strengths and can be worn in lots of different ways, celebrating its beauty and versatility," François says about the look, "Loving your true texture is important." Nyong'o agrees and describes how she views her own hair:
I like the term 'kinky.' Some people don't like that term, but when I think about my hair, I think of it as African kinky hair.
Nyong'o spoke about the products that François used for these looks, "I cannot live without his Pure-Fro Moisture Spray ($26; sephora.com) — [it] adds moisture to my hair, which loosens the curl — or his Scalp Nourish-Ment Braids and Locs Spray ($24; sephora.com). Also, he has this Mist-Nourishing Water ($18; sephora.com)." Nyong'o is clearly smitten with François' work and his products.
Oh and Nyong'o's photos were shot by famed fashion photographer Patrick Demarchelier, who makes the most subtle of movie cameos in The Devil Wears Prada.
Yup, that Patrick.
Nyong'o posted on Twitter about her excitement for this "refreshing" shoot.
Her fans went crazy over the shoot, too.
Pure art.