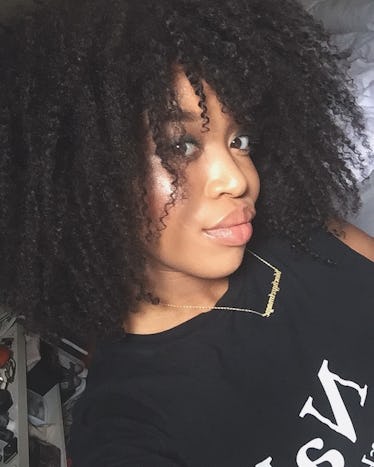 I Wore A Wig Named "Lola" For A Year & You Need To Know What It Did To My Hair
Everyone has a hair journey and a unique story to tell. While some of these personal anecdotes might be more straightforward than others, mine just so happens to tip the scale on complicated. My kinky-curly natural hair and I have been through a lot over the past 23 years. Between horrific dye jobs and countless styles done on impulse (here's looking at you, buzzcut), it's only now that I wish I had complete photo evidence to reminisce on how far we've come. The look of my hair has really shaped my identity throughout every stage and phase of my life. No big deal, seeing that hair trends evolve all the time, right? Wrong. Hidden away from view, my insecurity about thick, natural hair has unfortunately had a crippling effect on my self-esteem.
Unlike today's generation of strong, empowered girls who have "natural hair heroes" to admire, the younger me lacked such role models. I absolutely hated the tightly-coiled puff ball that grew out of my scalp.
First off, the pain associated with detangling it almost took. me. out. every two weeks when wash day rolled around. Sitting for hours in my mom's lap as she tried her hardest to make my hair look "neat" again hurt just as bad. And at the end of it all, when the hair products and tools were stashed away, I didn't feel pretty.
To top it off, my natural hair wasn't even close to what society said was "beautiful." In the early 2000s, envied styles — whether they were natural or not — included long, straight hair and silky waves. This was especially true in the black community, where having "good," easy-to-manage hair was seen a status symbol.
As soon as I got older and received permission (kind of) from my mom, I began experimenting heavily with hairstyles. At 13, I dabbled in braided extensions, which were my absolute favorite. Although we shelled out hundreds of dollars for them, bra-strap-length box braids were hassle-free for me and considered an investment for my mom. Not only did they drape longer than my natural hair, each set of braids could easily last up to three months with proper care. Totally a win-win situation.
Tossing "Lola" aside, I began the tedious process of nursing my 4C-type curls back to health.
The real "trouble," however, began when I was either 17 or 18. At that time, my mom finally caved and agreed to pay for my first sewn-in weave. Practically everyone I knew had upgraded to these types of extensions; getting my own felt like the right thing to do. The wefted hair, which alone cost $150, was a sandy brown color and bone straight, without a kink or curl in sight. At my request, my hair stylist cut it into layers with a long side bang that I feverishly (annoyingly, too) flipped what seemed like 10,000 times a day. Going into my senior year of high school, the weaves boosted my confidence in ways I could've never imagined. The compliments from guys and girls alike were endless when I wore them, allowing me to forget my natural hair woes and become the person I always wanted to be. At least, that's what I thought.
I hit what some call "rock bottom" in 2012 once I discovered that wigs were — in my case — a faster and cheaper alternative to sew-ins. Although I only owned one straight-haired wig that put me back $50, I wore it off and on throughout college and became obsessed. After I moved to New York in 2016, attempting to find someone who could both tame and help maintain my natural hair gave me extreme anxiety. Yep, you guessed it; wigs became the obvious solution.
For the first time ever, I'm publicly acknowledging that fake hair serves as my crutch.
In 2017, I ironically moved on to a faux afro I named "Lola," which was gifted to me by a hair extensions company.
It's a showstopper with loose, defined curls — curls that I've passed off as my own for nearly a year straight whenever people ask. Ashamed of my dishonesty, plus the matted mess that laid untouched and underneath "Lola" for weeks, I recently decided to start over. Tossing "Lola" aside, I began the tedious process of nursing my 4C-type curls back to health.
Like I expected, though, my natural hair is far from in good shape. Several shorter, broken off pieces stick out among the rest; I was devastated while combing them apart and assessing the damage. Yet, I also felt a strange sense of relief. For the first time ever, I'm publicly acknowledging that fake hair serves as my crutch.
Over the past five years, weaves and wigs had me in a voodoo-esque hold, where it was impossible to see the unparalleled beauty in what's naturally mine. The opinions of others and my eagerness to be "desirable" put me on the fast-track towards developing serious identity issues. But what they say is correct: True and lasting validation comes from within. Taking care of the kinky crown that adorns my head is a part of taking care of and loving myself; one cannot be done without the presence of the other.
I can't lie, letting go of my attachment with "Lola the Wig" and all other wigs, weaves, and protective styles will be hard. "Lola," again, has barely left my head since receiving her in the mail about 365 days ago. Sheesh. Still, coming out of hiding seems way more important. And, honestly, I'm proud to say that it has been my best hair decision to date.