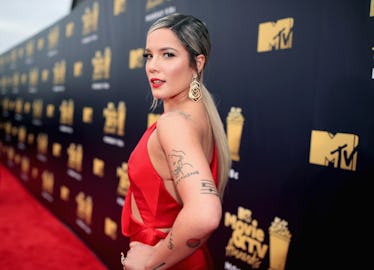 Halsey Just Got The Daintiest New Face Tattoo & It's So Small, You Can Barely See It
Christopher Polk/Getty Images Entertainment/Getty Images
I'll admit, when I first hear the words "face tattoo," my immediate reaction isn't exactly positive. This is largely due to two major factors. The first reason is that face tattoos don't reflect my own personal style, so as far as aesthetics go, I'm not exactly all about it. The second reason has to do with the physical act of tattooing such a sensitive area. Just thinking about it gives me the heebie jeebies. My own perspective aside, that doesn't mean face tattoos can't be amazing, and when I first heard about Halsey's new face tattoo, I knew the ultra-cool musician would likely succeed in converting me into a full-on face tat fanatic.
To introduce her new ink to the world, Halsey took to Instagram with a stunning profile shot featuring the tattoo just beside her ear (think: sideburn territory). I was surprised to see she went with red ink for the piece, as it's not exactly standard. But Halsey's a total trendsetter, so I should've assumed her face tat would be unlike any others I'd seen.
Not too bad, right? It's actually super small and dainty! The lyrics she captioned the shot with are from her song "Castle" on her Badlands album. It appears to be a Q and a diamond, styled in the form of the Queen of Diamonds in a deck of cards, such as the card below on the left:
So Halsey's tattoo shows that she's the Queen of Diamonds. OK, Queen! She credits the ink to a tattoo artist by the name of Nal, who posted a filtered, uncropped version of Halsey's picture.
After creeping on Nal's Instagram feed, I'm curious as to why Halsey selected him for the ink, as it appears he specializes in more photo-realistic tattoos. In fact, I can't stop staring at how much detail he can pack into such a tiny space.
I'm impressed, but back to Halsey. It looks like she didn't go solo for this tattoo. Her friend, Payton Selzer, posted some similar ink at the exact same time on Instagram. Halsey may be the Queen of Diamonds, but Selzer has apparently claimed the title Ace of Spades.
Fans have also been quick to point out that Halsey isn't the first to get a card-deck-inspired tat. Singer Kehlani has had a Queen of Hearts tattoo in the same spot as Halsey since August 2015. The two did team up for Halsey's Hopeless Fountain Kingdom Tour, so Halsey's definitely seen Kehlani's tattoo before.
So Halsey is Queen of Diamonds, Selzer is Ace of Spades, and Kehlani is Queen of Hearts. Does this make G-Eazy the King of Diamonds? Are there other celebs out there who are part of this playing card-inspired tattoo gang? Do you think they actually play cards together? I have so many questions.
Anyway, this isn't Halsey's first rodeo when it comes to tattoos, as you can see by the "I'm a loser, baby" inked on her neck in the same Instagram post. The lyrics come from the 1993 hit "Loser" by Beck. The lyric is one of her over 20 tattoos.
Yes, Halsey clearly has a thing for tattoos, but don't expect her to get more on her face anytime soon. She refers to this as her "first (and only hopefully lol) face tattoo" in her caption.
I'm mildly disappointed by this. I actually really like her face tattoo! She says she doesn't want more, but I wouldn't be mad if she added onto it for a larger look, a la Kat Von D's iconic stars:
Whether you love it or hate it — and like I said, I'm surprised that I love it! — Halsey's new tattoo is here to stay. It's definitely tame compared to Post Malone's huge "Always Tired" face tat, but you never know what she'll do next!