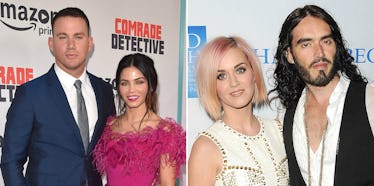 7 Celeb Couples Who Got Matching Tattoos Then Broke Up, Making It Awkward AF
Alberto E. Rodriguez/Getty Images Entertainment/Getty Images, Jason Merritt/Getty Images Entertainment/Getty Images
As much as we'd like to think (and hope and dream) that it will, love doesn't always last a lifetime. Especially in Hollywood. I mean, we're living in a post-Brangelina era here. With a new celebrity breakup hitting the news cycle almost every other week, it's pretty clear no one's safe. As such, some of our favorite stars should probably think before they ink, because unlike Hollywood marriages, it does last forever. And is there anything quite as awkward as celeb couples who got matching tattoos and then called it quits?
While few keep their tats around as a reminder of simpler times, others opt for the creative cover up, or better yet, go all in on a removal. Any which way you look at it, it's uncomfortable. For everyone involved. And while I'm obviously still mourning the end of Channing Tatum and Jenna Dewan's union (gone, but not forgotten), something tells me their next SOs aren't going to love looking at their wedding vow ink later on. "Jenna and I have twin tattoos we got on our honeymoon in Bali," Channing told People in his 2012 Sexiest Man Alive interview, six years before announcing their split. "It says, 'Side by side.' Mine is here [points to rib cage], but hers is on her foot."
Channing Tatum And Jenna Dewan
After meeting on set of the 2006 dance drama, Step Up, Channing Tatum and now ex-wife Jenna Dewan married in a star studded Malibu ceremony. Although they "lovingly separated" nearly nine years later, the couple's matching tats remain as a reminder of their 2009 nuptials. Speaking to People, Channing called their ink a joint decision. "We always wanted to get a tattoo of something together," he told the outlet. "We weren't going to do each other's names, we wanted to do something symbolic." Divorce aside, the former spouses are still "side by side" raising their 5-year-old daughter, Everly.
Khloé Kardashian And Lamar Odom
Following a whirlwind three-week romance, Khloé Kardashian wed former Laker Lamar Odom in a televised ceremony on Keeping Up With The Kardashians. The couple inked their love just a month later with matching initials in October 2009. Writing on her official website, Kardashian said:
When we were at dinner, I just knew I wanted a tattoo for Lamar in the web of my hand ... Once we got to the shop we decided on getting each other's initials. I got 'LO' in cursive on my right hand and he got 'KO' on both hands.
Sadly, the marriage (and tattoo) didn't last. Odom and Kardashian separated in 2013. Although Kardashian seemed to toy with a reconciliation following Odom's 2015 overdose, posting a heart captioned Instagram of the L.O. tattoo in April, the pair finalized their divorce in 2016. Kardashian documented the removal process on Snapchat a year later, bunny filter and all.
Ellie Goulding And Doug Poynter
Former flames Ellie Goulding and Dougie Poynter showed off their matching middle finger skulls in an Instagram, captioned "Skullin ell." After romancing the "Love Me Like You Do" songstress for nearly two years, Poynter and Goulding's relationship ended in 2016. Speaking to The Sun at the time of their split, Goulding admitted:
People think I'm invincible but these past few weeks have been tough. Everyone knows that breaking up with someone is a really terrible thing. It's hard, complicated and it's never going to be easy.
Although rumors of a reunion have continued through 2018, there's still no official word on whether they're rekindling. Either way, they'll remain connected in one way or another.
Rihanna And Drake
Drake and Rihanna's more than 10-year relationship has included a lot of labels — friends, enemies, significant others. But after the pair's most recent fling, which followed Drake's very public declaration of love at the MTV Video Music Awards in 2016, they were spotted out and about with matching shark tats. NYC artist Bang Bang snapped a shot of RiRi's fresh ink. "Camo shark for my dear friend @badgalriri," he wrote. Meanwhile, the "God's Plan" rapper was spotted at a Summer Sixteen performance days later with the same design.
According to E!, the tattoo has "special significance" and symbolizes a Toronto aquarium date. However, things looked to have fizzled not long after. In her May 2018 Vogue interview, Rihanna confessed she was dating someone else. "We don't have a friendship now, but we're not enemies either," she revealed of her Canadian-born ex. "It is what it is."
Katy Perry And Russell Brand
Prior to Russell Brand reportedly asking Perry for a divorce via text, the one-time lovebirds inked "go with the flow" in Sanskrit on their inner biceps. However, they called it quits only 21 months after marrying in an extravagant India wedding. Katy has since coupled up with Orlando Bloom, while Brand remarried and welcomed a daughter, Mabel, with lifestyle blogger Laura Gallacher.
Despite their 2012 split, Brand refused to remove the tat. "It was a very important and lovely time in my life. I don't regret being married to Katy at all," he told Grazia Daily. "I have very positive feelings about that whole experience and Katy is an extraordinary woman."
Sarah Hyland And Dominic Sherwood
Before Hyland's very public PDA with Bachelorette alum Wells Adams kicked off, the 27-year-old actress romanced Vampire Academy co-star Dominic Sherwood. The duo ended their two-year relationship in August 2017, but not before getting a very permanent reminder of their past together. Hyland posted the fresh arrow design to her Instagram in 2015, alongside the caption, "What did I do this weekend? Got some ink with my best friends." Days later, Sherwood posted his own. "Evidence of last night's escapades!!" he wrote. Oops.
Ciara And Future
Ciara said goodbye to her fiancé and their matching ring-finger ink when the pair ended their two-year engagement in 2014. The co-parents sealed their relationship with similar "N" and "C" tattoos, before a source revealed Ciara was ditching hers almost immediately following their split announcement. "She is in the process of removing her tattoo at this time," a source told E!.
The "One, Two Step" singer moved on with Seattle Seahawks quarterback and current hubby, Russell Wilson, only a year later. One-year-old Sienna Princess Russell joined big bro, Future Zahir, in April 2017.