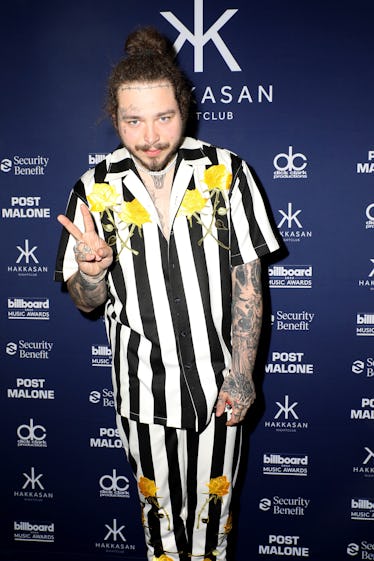 Post Malone Just Got A Bold New Face Tattoo & Dear God, I Relate To It So Hard
Roger Kisby/Getty Images Entertainment/Getty Images
Now, typically on summer Friday afternoons, I don't have many Thoughts about Things, because I'm usually very tired and only think about sleeping. However, this morning, I have a plethora of thoughts running through my head, and every single one of them is about Post Malone's new "Always Tired" face tattoo. Please don't get me wrong; I love tattoos (I have several myself), and I firmly believe that ink is a strong form of self-expression, no matter what it is or where it is on your body. Let's just say, as intense as Post Malone's tattoo might seem to a lot of people, at the end of the day, it's his own form of expression, and it's pretty freaking relatable, if you ask me.
Now, Post Malone (whose real name is Austin Richard Post) isn't a newbie when it comes to tattoos — face or otherwise. In fact, he already boasts a few face tattoos, including barbed wire running under his hairline, a sword on the side of his face, the words "Stay Away" across his right eyebrow, and a couple other smaller pieces. On Wednesday night, June 6, Post Malone debuted his entirely new face piece. Photographer Adam DeGross, who's also Post Malone's tour photographer, snapped a close-up photo of the 22-year-old rapper's face, revealing a new face tattoo under each eye, which read "Always" and "Tired" from left to right. I don't know about you, but I have never related to something on such a personal, visceral level before in my entire life.
Tattoo artist Chad Rowe, based in New Castle, Indiana, was the one to give Post Malone the new tats. In the caption of a photo he posted to Instagram, Rowe described how thrilled he was to be able to tattoo Post Malone himself. Believe it or not, Rowe also revealed in the caption that Post Malone even tattooed him during their time together:
Yesterday was one of the most surreal moments of my entire life. I had the absolute honor to tattoo @postmalone and his crew, and even had the man himself TATTOO MY HAND. I really dont even know how to explain the entire situation. So if you want to hear the story message me to book your next tattoo or come into the shop. Thanks again to everyone in the Post tour. I love you guys . And thank you to everyone who follows me in my journey. You make this possible. This is life-changing.
I'm not even kidding, HOW SWEET IS THAT??? Tattoo buds for life.
Say what you want about face tattoos, or tattoos in general. (Or, you know, if you don't like 'em, just don't get inked.) But clearly, the phrase "Always Tired" doesn't only speak to Post Malone. Once the tattoo was debuted, many of the rapper's fans took to Twitter to share just how much they related to this. Because — show of hands, please — who TF isn't always tired?
We see you, Post. We feel you out here.
Haters can step off and get the full eight hours of sleep I guess they're all getting somehow???
Really big mood.
Face tattoos are polarizing, but regardless, Post Malone pulls it off.
If you aren't always tired, then who are you? (Also, tell me your secret?)
10 out of 10 people are also very tired.
ICYMI, Post Malone has been hard at work and recently dropped his second studio album, beerbongs & bentleys. So even though his new tat may have a more personal meaning to him, I'd venture to say slaving away on an album would make me tired, too.
Post Malone is also about to embark on a pretty lengthy tour around the United States and Europe, so you can catch the rapper in a city near you and peep his "Always Tired" tattoo for yourself.