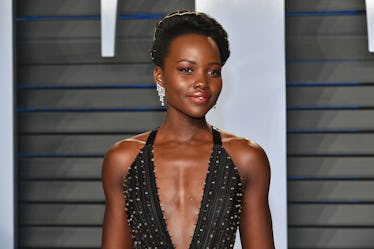 Lupita Nyong'o's Comments About Natural Hair Prove She's Determined To Help People Embrace It
Dia Dipasupil/Getty Images Entertainment/Getty Images
Going natural has gone from a movement to becoming a way of life for many black women. And while there is more representation than ever before for curly hair, there's arguably a void for those with kinkier textures — leaving some with 4C curls still believing that their locks are undesirable, both personally and in the professional world.
Actress Lupita Nyong'o's natural hair is one woman who is of the more coily variety, and she's definitely not afraid to show it off or to speak up about the need to normalize natural hair across the board. "My hair is something that, historically, has been shunned," she told Porter, for whom the actress is the September 2018 cover star. "I mean, how often do you hear, 'You can't get a job with hair like that?'"
Nyong'o's experience with her natural hair is one all too many women with similar styles are familiar with. "Natural, African, kinky hair — it's often been painted as uncivilized or wild," the 35-year-old added.
As a result of these connotations, Nyong'o admitted previously that she once struggled with learning to accept her hair as a child, and opted to use a chemical relaxer in order to fit in. "Around 13 or 14, I had such a rough time with being teased and feeling really unpretty," she told Allure editor-in-chief Michelle Lee back in February. "My dad intervened and spoke to my mom about my hair, and she finally agreed [to straighten it]. She took me to the salon in the middle of the school day, and I got my hair relaxed."
But straight hair proved to be another hassle for the star, who revealed that it was a "commitment" that she would soon get tired of. "I remember doing crazy things, like sleeping with my head above the headboard so that my curls wouldn't get messed up for the next day," Nyong'o said. "I'd have these terrible neck aches because I was determined to keep my hair as pristine as possible. And it was super expensive." So in her later teen years, the Black Panther actress decided to shave it all off.
Evidently, her struggles turned into triumphs, not only for her own personal hair journey, but also in becoming an advocate for others with similar kinky textures. So when fashion magazine Grazia U.K. decided to smooth out her hair for their November 2017 cover, Nyong'o made no qualms about publicly expressing her unhappiness about the editing and confirming that she is perfectly confident with her natural beauty:
As I have made clear so often in the past with every fiber of my being, I embrace my natural heritage and despite having grown up thinking light skin and straight, silky hair were the standards of beauty, I now know that my dark skin and kinky, coily hair are beautiful too. Being featured on the cover of a magazine fulfills me as it is an opportunity to show other dark, kinky-haired people, and particularly our children, that they are beautiful just the way they are. I am disappointed that @graziauk invited me to be on their cover and then edited out and smoothed my hair to fit their notion of what beautiful hair looks like. Had I been consulted, I would have explained that I cannot support or condone the omission of what is my native heritage with the intention that they appreciate that there is still a very long way to go to combat the unconscious prejudice against black women's complexion, hair style and texture. #dtmh
To push the message forward, Nyong'o is set to release children's book, Sulwe, in 2019, a story that follows a 5-year-old Kenyan girl named Sulwe, who has the deepest skin tone in her family and is determined to find a way to lighten her skin. But as the story goes on, Sulwe learns to love herself just the way she is, which is an important message for children and can be therapeutic for adults as well. "It was about having dark skin in a world that favors traditional Western standards of beauty – light complexions and silky hair – and my own journey from insecurity to a place of self-acceptance," Nyong'o told Porter. "I wanted to get to kids before they reach an age where the world is telling them they are not as valuable."
Hopefully, Nyong'o's fictional story and her real-life story inspires younger generations everywhere to embrace their natural looks just like she has.