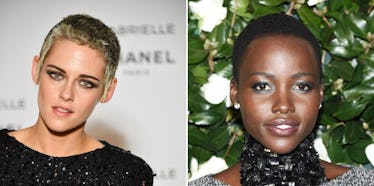 8 Badass Celebrities Who Shaved Their Heads And Looked Sexy AF
Gary Gershoff/Stephane Cardinale - Corbis/Getty Images
It takes the ultimate confidence to rock a shaved head, but these women did it effortlessly and look sexy AF. Below, check out eight badass celebrities who shaved their heads and looked amazing as hell.
1. Charlize Theron
Theron owned this shaved look for her badass role in the film Mad Max. The Oscar-winning actress told People, "I had just finished two press tours and my hair was destroyed from heat damage, so I was glad to get rid of it."
2. Kristen Stewart
K. Stew shaved her head in March 2017 for an upcoming role in a film called Underwater. Get it, gurl.
3. Natalie Portman
Portman shaved her head in 2005 for her role in V for Vendetta. She pulled it off gracefully. You hot AF, Nat.
4. Jessie J.
Singing sensation Jessie J shaved her head in 2013 and raised $500,000 for a charity called Comic Relief and then did it again in 2015 just for fun. She told BBC she felt "weird" but the haircut was "liberating."
5. Lupita Nyong'o
Nyong'o shaved her head in 2016. She told InStyle, "Almost on a whim, I was like, 'What if I didn't have it?' And so I shaved it all off — I was a complete baldy!"
6. Amber Rose
Rose shaved her head almost a decade ago. She told Inked Magazine in 2011, "When I was a little girl I used to love Sinéad O'Connor's video and song 'Nothing Compares 2 U.' I knew I wanted to look as beautiful as she did one day, so when I was old enough to make my own decisions, at 19, I cut it off, and it's been over eight years now."
7. Kellie Pickler
Pickler shaved her head in 2012 to support her best friend, who was diagnosed with breast cancer and had to undergo chemotherapy.
8. Halsey
Halsey shaved her head in May 2017 just in time for the Billboard Music Awards. The biracial musician told Nylon Magazine, "Hair has also been a big indicator of racial issues in my life. It's one of the ultimate symbolic struggles for women of color. Shaving my head was important to me because I needed to be able to prove that I could still love myself if I did it."
If you're thinking about shaving your head... just do it. You'll look sexy AF, too.