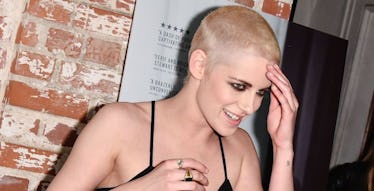 Kristen Stewart Shaved Her Head And Looks Totally Unrecognizable In New Pics
REX/Shutterstock
Kristen Stewart looked totally unrecognizable at the Los Angeles premiere for her new movie, "Personal Shopper," and the pics will make you do a double take.
On March 7, the star strutted her stuff on the red carpet wearing a black crop top with high-waisted pants.
She debuted a short, blonde haircut and rocked the look as she made her way down the carpet with director Olivier Assayas.
In the video below, you can see Kristen Stewart interacting with the photographers and having some fun with the shots.
According to E! News, there's actually a reason the 26-year-old decided to drastically change her look.
Kristen Stewart's shaved head is reportedly for her upcoming role in the movie "Underwater." The movie will be about a crew of underwater researchers who must survive after an earthquake destroys their laboratory.
However, Kristen is currently focusing her attention on "Personal Shopper." The film hits theaters on Friday, March 10, and tells the story of a young American woman working as a personal shopper for a celebrity in Paris.
Kristen's character has the ability to talk with spirits, including her deceased twin brother. If you haven't watched the trailer yet, I suggest you check it out below.
The film looks spooky AF, so be sure to watch it with the lights on.
V Magazine captioned the photo above,
Our #V106 cover star is Kristen Stewart! Head to the link in our bio where she opens up to @chloessevigny about her new film, Personal Shopper, and shines bright in a colorful photo shoot with @mariotestino and @paulcavaco. Issue on stands March 9, available for pre-order now. #KristenStewart wears a @chanelofficial blazer.
The actress posed braless and looked stunning in the photographs.
Keep killing it, Kristen!
Citations: Kristen Stewart Shaved Her Head (E Online)