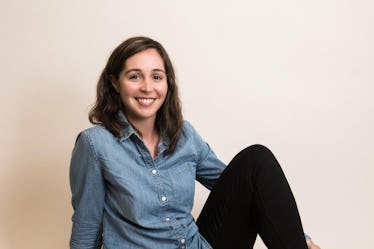 What Elite Daily's First Issue "When I Grow Up" Is All About
Get through college. Find a job. Build your credit. Find an apartment. Pay off your loans. Work hard so that you can get promoted. Start an emergency fund. Date people. Stay in touch with friends. Learn to cook. Respond within 24 hours. Open a 401(k)... There are, quite literally, thousands of rules governing how to be a grown-up; what's weird is that there are no signposts marking when you've actually become one. And once you do feel like you've gotten there, how do you know you're doing it right? Maybe it's paying your first bill, maybe it's initiating that awkward talk with your parents about moving back home after college, maybe it's compromising with a new roomie on how best to make your apartment Instagram-ready, or maybe it's finding the balance in your closet between your work looks and your crop tops. Whatever and however you decide what being a grown-up looks like for you, Elite Daily's inaugural issue, When I Grow Up, will help get you there.
It can feel like you're the only one flailing.
Even now, eight years after college — even with a a job, an apartment, a savings account — I'm still waiting to grow up. You know what I mean: I'm waiting for things to just click; to feel, 100 percent, like I'm not waiting to feel like I've grown up anymore; that I am already, through some fault of the system, the adult I have been waiting to become. And all that waiting and worrying (over whether I'm there yet, or if I'll ever be)... it can be terrifying.
When I Grow Up is a crash course in all the things we grew up believing grown-ups naturally knew how to do, only to realize that you learn those things mostly through trial and a lot of error. And we couldn't have picked a better guide for figuring that out and having a blast along the way than our April cover star, Kelsea Ballerini. The country marvel is 24, celebrating the release of her sophomore album, Unapologetically, and forging her own path forward in music. You're going to (quickly!) fall in love with Ballerini, for her advice on everything from trusting yourself to pushing your own limits to her fave late-night snacks.
Life "on your own" in 2018 actually means life with a roommate.
You'll also want to read real-life advice from women who are navigating this complicated, often hilarious transition from college back to the real world that we call "Summer Scaries." It can feel like you're the only one flailing, but when you remember that so many of us deal with not getting the job we want, moving back in with Mom and Dad, and not knowing who we are when we aren't students anymore, you hopefully won't feel so alone. The truth is, we're all asking ourselves those questions, too. And if you're looking for major inspiration, Crazy Ex-Girlfriend's Gabrielle Ruiz, Senator Kamala Harris, and Olympian Jordyn Wieber have got some stories for you.
So how do we get from Not A Grown-Up At All to Grown Up AF (or close) while still staying true to ourselves? With our Don't Mess This Up package, we look at how to make a success of your first job, no matter how menial. We turned to our readers who've been there to help you figure out how to make friends at the office; talked to a hiring manager about how to make your resume stand out from the rest; and asked tons of women to share their hilarious and embarrassing reply-all and office party mistakes. You're going to laugh, immediately screenshot their advice (and send it to your group chat), and then laugh some more.
Then, because life "on your own" in 2018 actually means life with a roommate, we bring you Roommate Therapy, wherein we hit up a ton of experts for their advice on sharing a small space with someone you love — or someone you barely know. (Hint: It's more than "boundaries.") If you're worried that living with your best friend will completely ruin your relationship, don't. There's a way to preserve your Me Time and your standing Thursday TGIT dates, and now you'll know how.
Meanwhile, you're going to want to decorate. In Add To Cart: Apartment Edition, we've nailed down 37 of the best buys you can make to put your first apartment on the Instagram map. Whether it's with succulents, a make-your-own-neon-sign kit, or some funky wall art, your first home is going to look and feel 100 percent you. (If you haven't already thought about a custom Snap filter for your new digs, here's your reminder.)
Next up: your love life. This issue also features our 50 First Dates package, designed not only to inspire you with 50 legitimately cool first date ideas, but to ease your fears about dating at this new place in your life. Whether you're trying to make it work long distance, trying to read the body language of the person across the table, or if you have a burning desire to know what Queer Eye's Jonathan Van Ness' dating red flags are, we've got you.
Growing up — the for-real, wait-what-are-taxes??? growing up you do in your early 20s — is scary ... But from this day forward, you don't have go at it alone.
What about when you just need a break? Are those allowed? They are, and our festival fashion-inspired So Festive shoot is all about honoring the most colorful, most Instagrammable time of the year: festival season. And while you're out there on the circuit, you're going to want to eat. If you're looking for the dopest food truck openings to scout out on your cross-country road trip with your best friends, easy dinner ideas you can win with three ingredients (or less!), or you're just curious on how @GirlEatWorld travels the globe eating and 'gramming and makes a career out of it, look no further than Can I Have A Bite?, a series whose goal is honestly 20 percent about feeding yourself and 80 percent about which donuts to ogle on Instagram.
To close out our debut Issue, Text This: is the guide you've been waiting years for. Don't know how to text your parents about money? Don't sweat it. Not sure how to fix things after you and your roomie got into a blowout over dishes? We talked to the experts for you. Here you'll find tips to smooth things over in no time — all without ever, ever, ever having to speak to someone over the phone.
When I Grow Up is a celebration of life as we know it, right now, in this awkward, exciting, overwhelming moment, but this issue is also a promise. Growing up — the for-real, wait-what-are-taxes??? growing up you do in your early 20s — is scary, and more often than not, it makes absolutely no sense. But from this day forward, you don't have go at it alone. We're doing it together.
-Kylie McConville, Managing Editor, Elite Daily