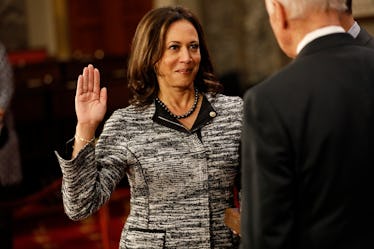 An Open Letter To The Class Of 2018 From Senator Kamala Harris
Aaron P. Bernstein/Getty Images News/Getty Images
As votes were still coming in for the 2016 presidential election, California made history in another way, by electing Kamala Harris as a senator. In winning the race, the former state attorney general became the first black woman or man to represent California and became the state's first new senator in 24 years. Before all that, though, Harris was a college senior graduating from the D.C. HBCU Howard University with a degree in political science and economics in 1986. She then went on to attend the University of California Hastings College of the Law in the class of 1989. This is her message to the class of 2018.
Dear Class of 2018,
As you prepare to graduate, you probably have a lot of questions.
Questions like, "Where am I going to live?"
"How am I going to find a job?"
Those are important questions. But I want to challenge you to ask yourselves two more big questions: How can I serve others? And, how can I lead?
From students walking out to protest gun violence to Dreamers walking the halls of Congress, young people are leading the way as they always have. The truth is our youth have always been our future.
You may not know this, but Martin Luther King was only 26 years old when he helped lead the Montgomery Bus Boycott.
John Lewis was 21 when he went down to Mississippi as one of the original Freedom Riders, and 23 when he spoke at the March on Washington.
Diane Nash was 22 years old when she started leading sit-ins in Nashville.
So this is your time to serve others. This is your time to lead. Right now.
I don't have all the answers for you, but I do have a few pieces of advice for your journey along the way.