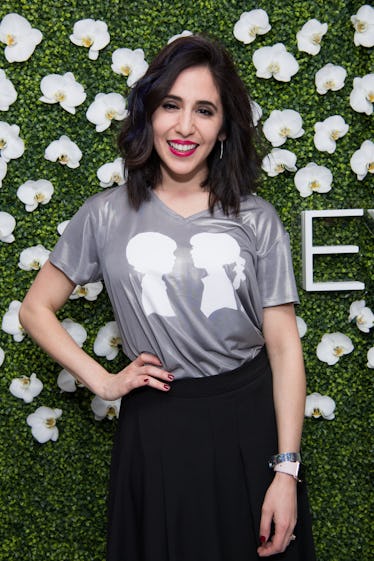 After College, I Kept Getting Rejected — Now I'm On 'Crazy Ex-Girlfriend'
Emma McIntyre/Getty Images Entertainment/Getty Images
Gabrielle Ruiz is perhaps best known for her role as Valencia in Crazy Ex-Girlfriend, but she had a long path to get there after graduating from Oklahoma City University (OCU) in 2007 with a dance performance degree and dreams of Broadway. This is her college graduation story, as told to Alexandra Svokos as part of Elite Daily's Summer Scaries series.
I saw my first Broadway show when I was 12, and I had that lightning bolt moment of, This is exactly what I'm destined to do. When I told my mom, she said, "If you want to do that, you'll have to work really hard and keep pursuing this even if there's a lot of nos." That advice and that support has carried with me until today. Coming from South Texas, there wasn't a lot of musical theater opportunity (when I was there), and we didn't have access to YouTube for exposure back then. It was all about how much you wanted it and how much you were willing to do for it.
So, at my mother's suggestion, I picked up choir to go along with dancing, which was my priority. I learned early that I couldn't miss dance class anymore because I wanted to do softball or cheerleading. My commitment was apparent. Robert L. Reed, a well-known tap dancer, came to our studio to teach a tap master class, [and] he pointed me out and told my parents I could be great and should definitely consider college for dance. (He ended up being a guest teacher at OCU when I was there, so I was able to study under him, and I feel grateful that my parents listened.) After that, getting straight As to make that college dream a reality became another priority.
When it came time to apply, I only auditioned for three schools: NYU, Juilliard, and Oklahoma City University. I always dreamed of going to New York — and there was all this urgency and anxiety to get there immediately because I thought being there meant success. But the only dance program I ended up getting accepted to was OCU. I remember feeling disappointed because Juilliard had such a famed title and I was going to Oklahoma City, which was far from my family, but not far [enough] for me. As a Mexican-American, leaving south Texas was a die-hard goal, and New York seemed like the answer. Looking back, I just want to tell my younger self to embrace that culture, especially since I became so proud of being Mexican as soon as I left Texas and for the first time, [I] understood what being a minority was.
OCU is tiny — one block big — and the arts programs there were (and are) very, very involved. Because it was a musical theater school, I wasn't just dancing ballet, I was also studying jazz, tap, partnering, how to teach, contracts... and it ended up being the perfect school for me. That's what I tell anyone in a school that might not be their first choice: the school you get into is exactly the right school for you. You may not know that now, but it's meant to be. If you pursue an opportunity with all your heart, you will get the most out of it. (And, of course, if you really don't like it, you don't have to go there next year.)
I majored in dance performance and am very proud of my school because it breeds not only triple threats — dancers/singers/actors — but it also trains professional performers. Jo Rowan [the Chairman and Founder of the OCU Ann Lacy School of American Dance and Entertainment] would always say, "This is show business, not show begging." That's where I learned that although dreams may be very inspiring, fulfilling, and uplifting, being able to make a profession out of them would take a lot of work. Nothing is just handed to you.
And I did work; if I'm going to do something, I do it 100 percent. I was in ballet tights and a leotard all day long, and in senior year, my class unofficially titled ourselves "007: Graduation Impossible." There were days [when] I took it by the hour, which meant if I'm in ballet class right now, everything that has to happen from 3 p.m. till midnight is just going to have to wait, because right now, I'm in ballet class. And it wasn't just to take ballet class and enjoy double pirouettes, it was to stretch and condition and work on a specific piece. When the next hour came around, I took that next hour with ferocity.
Coming up on graduation, I was still very focused on getting to New York City. I sent out about 15 headshots and resumes by mail in big manila envelopes to agencies from a newspaper — I know, this is so archaic! — and I got two phone calls back. The day before I graduated in May 2007, I got a call from an agency in New York asking me to audition for the West Side Story international tour. The audition was 48 hours after graduation. Of course, I said yes. My whole family was in town, and they packed up my apartment in Oklahoma City while I flew to New York the following day. I remember thinking there was no time to be scared. And if I had thought about it too much, with all the years of training that brought me to that moment, I probably wouldn't have gone.
I reached out to alumni friends to find a place to sleep in New York. By three degrees of separation, I was able to crash on the couch of an alum I had never met before, Macy, who was about six years older than me. I didn't end up booking that tour, but I did have an audition for the soap opera One Life To Live, and I booked it the next week. I ended up staying on Macy's couch for about six weeks because I didn't know what else to do. Macy was just so gracious, offering her apartment up to me, and it taught me how important it is to pay it forward, especially since I know how it feels to take a huge risk and become immediately serious in what you trained for.
Working in New York took a lot of hope, but also preparation — and trusting the tools that were given to me during school would translate to real life. I trusted that even if I didn't know the answer, I was going to figure it out, and a lot of my first two years in New York were spent making it up as I went along. Nobody was making my timetable for me anymore, so I had to create my own schedule, and that was rather jarring. It was my own choice to get up early enough to warm up for an audition, so when I got to the audition, I didn't waste my time because I'm not at my best. There were no more 10 a.m. dance classes, no more consequences — I had to create my own, and believe me, I reaped my share of them.
I booked In The Heights, which was incredible, but after it ended, I realized that New York City wasn't just this fun idea; it's where I would pay rent, make money, and survive — and not just survive, but live. After my run on In The Heights finished, I had my first "slump." A lot of my feedback from auditions was that I was a great dancer and singer, but my acting wasn't strong enough. Or I was in final callbacks for the ensemble of the next Broadway show, and I wouldn't get the call. I was about 26 at that point, and the insecurity and vulnerability of failure was definitely running its course. I would call my mom and and cry and basically say over and over, "I don't understand why they're not picking me," or, "It didn't happen again, I have to figure out how I'm going to pay my student loans and rent."
She would say to me, "Gabrielle, do you want to come home?" and through my tears, I would say, "No! I just need to cry about it, and then I'm going to sleep, and I'll figure it out tomorrow!"
Even when it felt the hardest, I never wanted to quit. I just love what I do, and I'm OK with it evolving. And you find comfort in unexpected places —for instance, when I needed to make money, I took on a "survival job" as a health coach, and through it I found a balance in talking about other people instead of myself. As a theater person, you're always pitching yourself: I'm great; I'm great; look at me; hire me! Health coaching was my saving grace in New York during those slump years. I was able to help other people, and I had a knack for it. Finding an outlet that helped me give back and support others made the rest of life more bearable.
Ultimately, as I learned at OCU, you have to work every day for your dreams. Jo Rowan, the head of my program, used to say, "luck is preparation meeting opportunity." You have to be prepared for the good luck and the opportunity. It can't just fall in your lap and then you're not ready for it. I learned a lot of life lessons from the ballet bar — knowing that when I make a commitment, I have to show up — on time — and that I have to maintain my body and take care of myself. I learned that just because I love to perform doesn't mean I'm going to love doing it every day — and even on those days when I don't love it, I still have to go. Loving what you do isn't just fun, it's work. It's finding the balance between what challenges your heart, drive, and tenacity. It's proving to no one but yourself that what you love is what you do.
As I stepped off the plane in New York for the first time, just after graduation, I remember thinking: It's ride or die here. This is a ride or die moment. And I'm going to ride.
This interview has been edited for length and clarity.