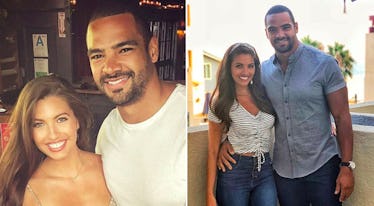 Clay Harbor & Angela Amezcua's Body Language Shows Such A Promising Relationship
Not everyone ended up with a happily ever after the last season of Bachelor In Paradise. After dating for pretty much the entire summer, Angela Amezcua got dumped by Eric Bigger at the end, which was a major bummer. But don't go feeling sorry for her! Because the cast of Bachelor Nation all seems to be pretty tight-knit, it's no surprise that Angela ended up snagging a Bachelorette alum in none other than Clay Harbor, the professional NFL player who left Becca's season after suffering a wrist injury during a group date. Clay Harbor and Angela Amezcua's body language speaks volumes about their chemistry, and you guys? It's so sweet.
These two aren't the only couple to make it out of Bachelor Nation. As we've seen over the years, plenty of couples have found love on the hit ABC show, including Sean Lowe and Catherine Giudici, Jade Roper and Tanner Tolbert, Evan Bass and Carly Wadell, and most recently, Lauren Burnham and Arie Luyendyk Jr. But Clay and Angela are the first couple who appeared on the same show, albeit not the same season. (Well, unless you're counting the rumored romantic relationship between Peter Kraus and Bibiana Julian. But that's a whole different story.) The point is, don't discount the franchise's ability to play matchmaker, even when the couple wasn't on the show at the same time. It works! The proof is in the pudding.
According to their body language, Angela and Clay are super into each other. The two were introduced by Chris Randone, a contestant who knew Clay from Becca's season of The Bachelorette and then later appeared on BIP with Angela. He ended up engaged to Krystal Nelson. After Clay left Becca's season of The Bachelorette early and Angela left BIP heartbroken, Chris worked some sort of Bachelor Nation magic and brought these two together. And bless him, because the body language between them indicates that they were clearly meant to be.