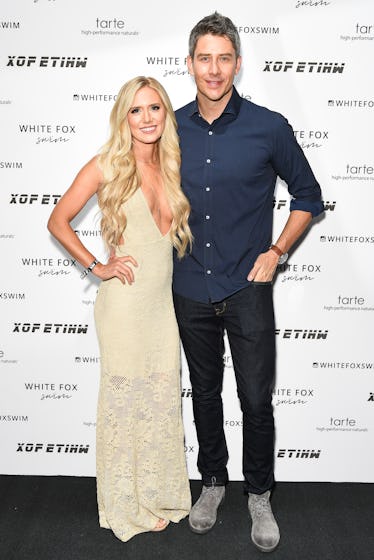 Lauren Burnham's Body Language Right After Announcing Her Baby News Is Coy
Presley Ann/Getty Images Entertainment/Getty Images
Let's face it. As much as we hate to admit it, it's rare that a couple from Bachelor Nation actually makes it for the long haul. At most, they usually end up dating for a little bit after the proposal and then call it quits. But one couple from The Bachelor seems committed to making their relationship last, despite their tumultuous start. And Lauren Burnham's body language after announcing her pregnancy suggests she and Arie Luyendyk Jr. are happier than ever.
If you're thinking, "Wait, what? When did Burnham get pregnant?!" Well, to be exact, 11 weeks ago. You see, after announcing their pregnancy in Us Weekly on Wednesday, Nov. 14, the couple created an Instagram account called @babyluyendyk. For their first post, they put up an image of Burnham posing sideways while she looks lovingly down at her stomach.
They paired the beautiful image along with this caption:
Hey world 👋🏻 turned 11 weeks old yesterday! I'm the size of a fig, imagine that! I have little arms, legs, and I no longer have webbed hands and feet. All my little organs are in place too. Mom is finally not feeling sick anymore, here's a pic of her ❤️
So what can we gather from this post? How's Burnham feeling about her new baby on board? Well, we asked Traci Brown, body language expert and author of Persuasion Point: Body Language and Speech for Influence, to read her body language in that one post.
"This is a cute picture," she said. "She's got her hand on her forehead —this can indicate that she's thinking about something. And she's looking down. I'm guessing she's looking at her belly and thinking about what the future will hold. There's major changes on the way!" True.
Brown also tells us that Burnham's face tells us a story of its own. "For her face, she smiling with a closed mouth which says that she's a little reserved but still happy," she explained. "I can't tell if her eyes are closed or not. If they're closed all the way, I'm betting that she's fully feeling this moment of happiness and expectation. If they're a little open, she's likely looking at her belly."
And why is she posing sideways? Don't worry, Brown has an answer for that too. "The sideways pose is likely to show how big she is now so she can compare in the future and show the world," she told us, noting that the pose is probably intended to highlight her status as an expectant mom. "If she wasn't pregnant, I'd say it's a pose that shows she's being coy and sexy, not wanting to connect too much to the viewer. So the context of pregnancy really changes the meaning of her poses!"
Honestly, congrats to the happy couple. Sure, Luyendyk and Burnham didn't have the most fans after he publicly dumped Becca Kufrin so shortly after proposing to her. But, at the end of the day, it seems like they made the right choice to pursue a relationship. They seem happier than ever.