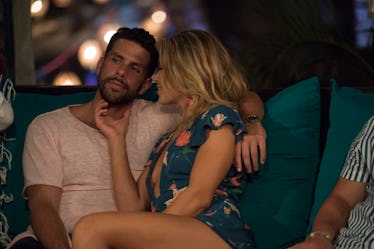 Krystal's Engagement Ring From 'Bachelor In Paradise' Is Absolutely Stunning
ABC
Throw some glitter in the air, because Krystal Nielson and Chris Randone just got engaged on Bachelor in Paradise. The unlikely couple seemed to sprout out of nowhere after Chris left a budding relationship with Tia Booth to pursue an interest in Krystal, who definitely wins the "Most Redeemed in Paradise" award this season. Chris, aka Goose, put rants and casual gaslighting aside when it came to Krystal, and the Bachelorette Season 14 troublemaker deserves some praise for picking out a beautiful ring for her. No surprise, but Krystal's engagement ring from Bachelor in Paradise is completely stunning.
At the start of this year's Paradise, we probably wouldn't have predicted that the sultry-voiced villain of Arie Luyendyk's Bachelor season would cruise through the summertime series as the chill yogi who calmly settles into a relationship with Chris. Following brief flirtations with Kevin Wendt and Kenny King, Krystal found a match in Chris, who had discovered a love for bandanas and bird nicknames while in Paradise. Although they were briefly caught in a love triangle with Tia, the Southern belle soon re-embraced her feelings for Colton Underwood (LOL, remember that?). This left Chris and Krystal to kick off a relationship that mostly played in the background of other contestants' antics.
Although Krystal had some fears about a possible proposal from Chris, they didn't stop her from having a fantasy suite date with him right before Proposal Day. On the date, Krystal opened up about being on her own and always struggling with the idea of marriage, but Chris pointed out that the two have made the best with the difficult situations their childhoods included. With that, they cuddled with some questionable objects (Krystal had a feather?) and called it a night.
The next day, Krystal met Chris at Paradise's designated oceanside engagement spot. Although Chris initially seemed to lean toward not proposing, he ultimately surprised Krystal by getting down on one knee with a ring. I'm only disappointed that he didn't enlist Wells and Yuki to throw glittery confetti at them as he popped the question.
Chris did play a quick "trick" on Krystal before popping the question. While holding her hands he took a deep breath and said, "I have to be honest with myself. And I have to be honest with you. And I'm so sorry, Krystal, but it would be unfair to the both of us if I left here today holding your hand...." *cue long dramatic pause* "Because I wanna leave here holding your heart."
Regardless of this prank moment... Krystal's Neil Lane sparkler is totally stunning. Although wearing fancy jewelry might not be conducive when the California resident is teaching a fitness class, her engagement ring certainly deserves its own moment in the spotlight.
Congratulations to Chris and Krystal! Good luck on creating a wedding hashtag that isn't too much of a tongue-twister. Going off Chris's own Instagram hashtags, I certainly don't mind the use of #GlitterGoose. Does Etsy have glittery goose centerpieces you can buy for a wedding reception?