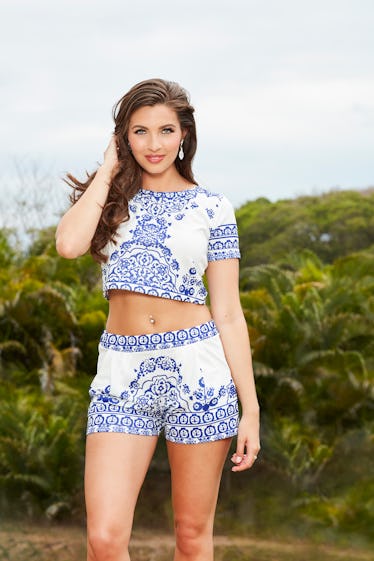 Angela From 'Bachelor In Paradise' Is Dating This 'Bachelorette' Alum Now & I'm Shocked
ABC
It turns out you don't have to go to Paradise to find romance with a fellow Bachelor franchise alum. Sometimes a surprising love connection buds off screen away from the bright lights of the cameras. Angela Amezcua left Bachelor in Paradise last week after not receiving a rose, but a rose wasn't necessary when it came to starting her new relationship; and her guy just happens to be a fan-favorite from Becca's season of The Bachelorette. Clay Harbor and Angela from Bachelor in Paradise are the reality juggernaut's latest couple and they couldn't be cuter. Don't ya just love it when Bachelor worlds collide?
If you watched The Bachelorette Season 14 you probably remember Clay, the sweet NFL player who injured his wrist (during a game of football of all things) on a group date in Week 3. His journey was cut short due to the incident. Upon finding out he would need surgery to correct the issue, Clay decided to leave the show to focus on his health. He felt he had to choose his physical wellbeing over continuing to compete because of its ties to his career and livelihood. It was a heartbreaking situation to watch unfold considering his early bond with Becca.
Well, it looks like one positive that came out of that unfortunate negative was the fact that he was able to meet Angela. Angela had her own difficult dating competition story of late — she and Eric Bigger seemed to be going strong on BIP Season 5 until Cassandra Ferguson arrived in Mexico. Despite going "all in" with Angela, he accepted a date with Cassandra and renege on what looked a lot like exclusivity. Angela was rightfully crushed and confused by his shocking actions. He ultimately failed to give her a rose and thus, she was sent packing.
Bachelor Nation will be happy to know that Angela is all smiles these days. She and Clay appear to have found happiness with one another. He made their courtship Instagram official on Sept. 5, captioning a photo of the two of them: "What do the kids call it? Woman crush Wednesday? Welp here's mine."
Aww, he used the heart eyes emoji and everything.
So, how did Angela and Clay get together? They have a certain goose to thank for that. Yup — Bachelor and BIP alum Chris Randone is behind the set up. Us Weekly reports that Clay's Instagram story mentioned Chris, writing, "big shoutout to Chris Randone for setting this up!" on another pic of him Angela. Way to go, Chris! If he and Krystal make it beyond Mexico, maybe these couples have a double date in their future.
Angela also took to social media on Sept. 5 to showcase her new love. "Paradise found," she captioned an adorable snap of her and Clay in Los Angeles.
Last time Bachelor Nation saw Angela she was leaving Playa Escondida in tears and now she's cozying up to a franchise fave rocking an ear-to-ear grin. As pretty much every reality TV contestant has said before when things go sour: "Everything happens for a reason." Looks like this time that inspirational phrase really rings true.