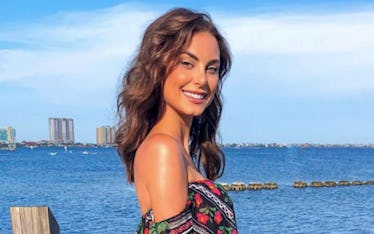 Here's What You Need To Know About Cassandra, The Latest Arrival On 'Bachelor In Paradise'
Instagram/@CassandraFerg
Bachelor in Paradise Season 5 is seriously heating up, and while many couples have gone through their ups and downs throughout the first few weeks, solid relationships are starting to form. It's not easy to come into the established mix of things at this stage in the game, but someone's gotta spice things up just when everyone's getting comfortable... Cue Cassandra — who stepped on the beach and turned heads immediately. But who is Cassandra on Bachelor in Paradise? Bachelor Nation hasn't seen her in a while.
You may recall Cassandra Ferguson from Juan Pablo Gervais' installment of The Bachelor. The midwesterner and former Detroit Pistons dancer went home on the sixth episode of the season. She then went on to participate in the second season of Bachelor in Paradise, which was a slightly more successful reality TV turn. She and Justin Reich (of Kaitlyn Bristowe's Bachelorette season) hit it off and they ended up dating. Unfortunately, the pair split shortly after and Cassandra hasn't been involved in the Bachelor-verse since. She did have a thing with another BIP Season 2 alum, Jonathan Holloway, although they didn't stand the test of time either.
Cassandra is a single mom to an adorable son Trey, now 7-years-old. His father is her ex-fiance, basketball player Rodney Stuckey. According to her Instagram, she's currently residing in Michigan and working as a makeup artist. She even does Bachelorette-themed looks. Impressive work!
"I would say most people would remember me for being a single mom and I'm here!" Cassandra said excitedly upon her Mexican arrival. The fit and bubbly brunette definitely caught the attention of the cast right away — both Joe, Eric, and Jordan confessed they found her attractive. Just don't tell Jenna...
A fresh face comes with the obvious shake-up — the coveted date card. And sadly for Angela, Cassandra decided to ask out Eric. "He's tall, he's dark, he's handsome," she noted. "What really is just the cherry on top is just that he's so sweet."
Eric and Cassandra's budding connection wouldn't be an issue if he and Angela didn't seem so solid. Angela and Eric have been coupled off for a while and they went on their first real outing this week and appeared to be on their way to making things official. The adorable duo tasted a giant cheese plate while lounging in robes (my personal dream date scenario) and expressed that they would be "all in" with one another.
"I feel like there's a million percent potential to fall in love with Eric," Angela confessed.
"Angela's the one and I think we can build something great out of this," Eric stated.
Aww?
But things evolve quickly in Paradise... now that Cassandra's around, anything could happen. Eric accepted her date and found himself explaining to Angela that he might be open to other relationships. Weren't they feeding each other brie, like, two seconds ago?!
"This is what a relationship is about. To have challenges and to have adversity," he told her before she broke down in tears.
So you're telling Bachelor Nation they have to keep track of another love triangle? This is getting exhausting.
Bachelor in Paradise airs Monday and Tuesday nights on ABC.