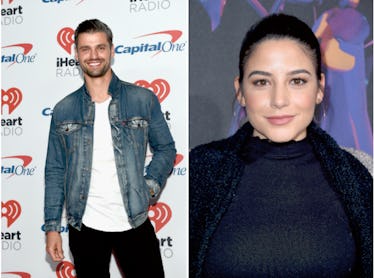 Bachelor Nation's Peter Kraus & Bibiana Julian Are Reportedly Dating & I Have Questions
David Becker/Michael Loccisano/Getty Images Entertainment/Getty Images
I've got some good news for Bachelor Nation fans: Peter Kraus and Bibiana Julian are reportedly dating — please let this be true! Elite Daily has reached out to Kraus and Julian's teams for comment, but did not hear back by the time of publication. Rumors are flying that Kraus, runner-up from Rachel Lindsay's Season 13 of The Bachelorette and Julian, a contestant from Nick Viall's Season 22 of The Bachelor, could be in a budding romance. Though a little unexpected for fans of The Bachelor franchise, these two hotties could actually be a stellar match.
Before you get too excited, the relationship may be leaning a bit more low-key. On Dec. 5 2018, an anonymous source reported exclusively to E! News that the two are dipping into a casual romance. "There is definitely a romantic connection there and they are casually dating," the source told E!.
Sounds promising, but I still have some questions. How did they meet? Did he slide into her DMs? Did someone introduce them? Was it you, Chris Harrison? Pics or it didn't happen.
We don't have any pictures yet, but there might be a video. On Wednesday, Dec. 4 2018, a tweet from Bleacher Report kinda accidentally showed the two sitting together at a Magic vs. Heat basketball game. For non-basketball fans, this footage won't seem like much, but if you're patient, you can see Kraus and Julian canoodling about 15 seconds in. Roger Sherman, a reporter for The Ringer, called attention to Kraus and Julian's cameo in the video in a tweet on Wednesday.
While competing for the rose on his season, the 31-year-old former model and business owner from Madison, Wisconsin was a total fan favorite. Kraus wasn't picked by Lindsay at the end of her season because he notoriously needed more time to decide if he was ready to pop the question with a free Neil Lane diamond. And then when he didn't end up being the next Bachelor, fans were notably upset. So with some rumored hope about a potential relationship with someone else from the franchise, I'm ready to cling on to this story and never let go.
Julian, on the other hand, has been a regular cast member on spinoffs of the series including The Bachelor Winter Games and Bachelor in Paradise. Unfortunately, the 30-year-old former Dolphins cheerleader and executive assistant from Miami wasn't able to lock down a permanent bae while America was watching. But maybe that's a good thing, if holding out meant she might end up with a hunk like Kraus.
I don't know about you, but the news that Peter Kraus and Bibiana Julian are reportedly dating has me pretty pumped up. Since neither Kraus nor Julian were able to lock down a boo on any of their seasons, it's hard not to hope that their casual fling turns into something real.
So, what's in store for these two Bachelor Nation babes? Only time will tell. But if they're really a thing, I'm definitely rooting for them.