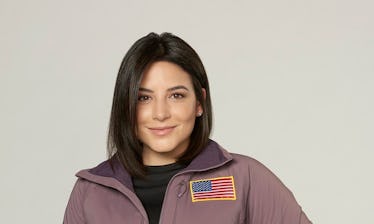 Everyone Has This One Question About Bibiana After The 'Bachelor Winter Games' Finale
ABC
If you thought everyone was solidly coupled up on Bachelor Winter Games, you were so, so wrong. It may be the finale, but Bibiana and Jordan proved that no one is safe. It was shocking to see another couple leave Vermont, leaving only four couples remaining. Why did Bibiana leave Bachelor Winter Games? Her exit had fans (and one sleeping castmate) shocked.
Bibiana and Jordan came together a little later in this season of Winter Games. — aka they formed their connection during Episode 2 instead of Episode 1. Keep in mind that the season is only four episodes long, people. Regardless, the two seemed to have formed a pretty strong bond throughout the season. They liked each other, enjoyed spending time together, and shared a lot of laughs.
However, the pressure of the finale cracked this couple wide open. Tensions were running high while rehearsing their ice dancing routine. Bibiana was getting a little agitated with the poor communication happening between her and Jordan.
Then, things took a bad turn for the two. Since they are in the final days of the competition, Jordan wanted to sit down to discuss their future. He's from New Zealand, she lives in Miami — how are they supposed to make a long distance relationship work? Although "Mr. New Zealand" was all about Bibi and what comes next for the two of them, Bibiana couldn't give him the answers he needed.
Judging from what we saw on TV, Bibiana was definitely feeling the pressure of Winter Games. She couldn't promise Jordan a future, so the two decided to part ways.
The confusing part: Bibiana went on and on about how great Jordan was and how much she liked him, but it just wasn't enough in the end. Fans questioned why she went on the show to find love, but then ran the other direction when she potentially found it.
Fans were wrecked after the encounter, and Twitter couldn't handle the confusion.
This is all complicated by the fact that Jordan was an extremely controversial Bachelor in New Zealand.
After he notoriously chose his winner by flipping a coin, it was kind of unbelievable to see him open up emotionally, only to get shut down.
It was hard to watch Bibiana walk away from love, but at the end of the day her heart just wasn't in it. As far as the process of finding love on the show, Bibiana is definitely a believer. In an interview with, KTLA she was asked if she thought "real stuff" could happen on The Bachelor. She responded,
Absolutely. I think for me, I left obviously early, but even experiencing Winter Games I thought there and the connections I made with people I thought, this is real. This is your fairytale love story. They just provide a platform for people to meet.
Her journey with Arie ended early, but pairing up with Jordan proves that both of the contestants were open to finding love. Even Chris Harrison was cheering for Jordan's success on the show. He said in a blog post for People on Feb. 16,
Jordan is actually a really interesting guy. While he definitely made some decisions as the New Zealand Bachelor that I'm sure he regrets, he's also learned from them. I think you'll be pleasantly surprised to see just how seriously he takes things, and just how emotionally invested he becomes in his relationship with Bibiana during his time at the Bachelor Winter Games.
It's important to keep in mind that a lot of what people see on TV is due to heavy editing and producers picking and choosing what viewers see. There was probably a lot of Bibiana and Jordan's conversation that we missed. Whatever the true reason for Bibiana rejecting Jordan, I hope she is able to find what she's looking for in the love department. Love you forevs, Bibi.
Check out the entire Gen Why series and other videos on Facebook and the Bustle app across Apple TV, Roku, and Amazon Fire TV.