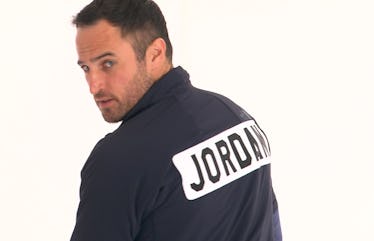 This 'Bachelor Winter Games' Contestant Did The Wildest Thing During His 'Bachelor' Finale
When I think of Bachelor spinoffs, I never think of contestants who were frontrunners. Instead, I imagine men and women who were cut in the first few weeks of competition and regain popularity through their dramatic Paradise dates. Given this pattern, it's surprising that The Bachelor Winter Games cast includes a former foreign Bachelor. Jordan Mauger may not have found lasting love on Season 2 of The Bachelor New Zealand, but Winter Games might be his lucky shot. For those of us unfamiliar with the international Bachelor casts, we have to know: Who is Jordan on 'Bachelor Winter Games'?
The 34-year-old appeared on Bachelor New Zealand in 2016, choosing to propose to 26-year-old Fleur Verhoeven. They called things off in May 2016, only two days after their season finale aired. In a statement published by the New Zealand Harold, Jordan said of their relationship:
Fleur is a remarkable woman. There is no doubt about that. What I have struggled with is interpreting my feelings from the show to the real world. For the last seven weeks, Fleur and myself shared concerns and doubts over that time. Hoping that feelings would reignite again... After a long absence and only seeing her for the first time onstage, I knew something was amiss.... It is only fair Fleur is with someone who can give her the best and give her the commitment and love she deserves.
With no background context, Jordan's message looks like it could have come from any standard Bachelor couple that only lasted a few months. Nick Viall and Vanessa Grimaldi? Chris Soules and Whitney Bischoff? Just replace the names and it could fit any of their scenarios.
However, Jordan's statement takes on a whole new meaning when you know exactly how his season ended. The then-32-year-old was pretty torn between his final two women, Fleur and 25-year-old Naz Khanjani, who was apparently the favorite to win. When the time to choose one neared and producers were pressuring him to make a decision, Jordan was so clueless about what to do that he flipped a coin to figure out who to propose to. I take back any bad thing I ever said about Nick, because he's a gem compared to this guy.
The worst part is that the coin flip wasn't even shown on camera, and Jordan kept this little detail a secret for a year before sharing it on reality TV podcast The Real Pod:
The first helicopter was waiting and [the producers] said 'who are they putting in it?,' so I flipped a coin... I knew it was very likely it wouldn't work out with anybody, but if you sign up to something, you see it through.
Production company MediaWorks was reportedly unaware of his decision-making strategy, saying in a statement:
We are surprised to hear that Jordan tossed a coin to decide who was best for him, but ultimately the decision was his own and how he got there was his choice.
Seeing as he definitely wasn't New Zealand's favorite man after his season, Jordan played it coy when rumors of him joining Bachelor Winter Games began. He went as far as saying, "The only ice I really enjoy is in my drinks," but now that we know he's in the contestant lineup, I wonder if he'll appear as a trouble-making force in the Winter Games cast.
Looking at Jordan's career path, there's also the possibility of him not participating in Bachelor projects for the right reasons. Listed on IMDb as an assistant director and actor, Jordan has appeared on several TV series in minor roles and has worked with directors on a few movie crews.
Apart from The Bachelor, his most recognizable credit is as a production runner on The Light Between Oceans, a 2016 romantic drama starring Michael Fassbender and Alicia Vikander. Do you think he tells his friends about that one time he almost made eye contact with Fassbender from across the set?
Maybe this is just me, but Jordan screams of a dark-haired Chad Johnson to me. Hopefully he doesn't have Chad's temperament and he treats the women of Winter Games much better than he acted with his Bachelor ladies.
The Bachelor Winter Games premieres on Tuesday, Feb. 13 at 8 p.m. ET on ABC.