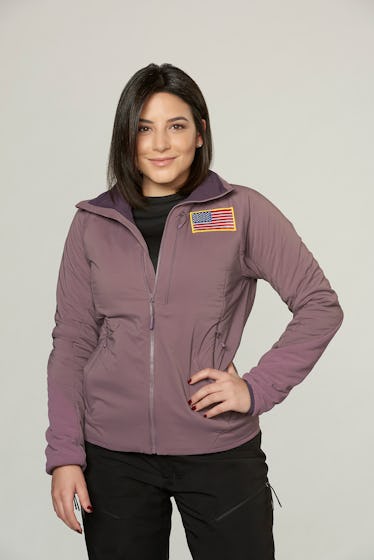 Here's Everything We Know About Bibiana's Dating Life After 'Bachelor Winter Games'
ABC
Bibiana Julian became a fan favorite despite getting the boot early on in the current season of The Bachelor, so America was happy to see her swift return to TV when she was announced as a contestant on The Bachelor Winter Games. The show is halfway in, and Bibi is already hitting off with a certain "Mr. New Zealand," as she referred to him on Thursday. Who is Bibiana dating after Bachelor Winter Games? Bach Nation is wondering if she and Jordan Mauger kept their romance going after the cameras stopped rolling.
Bibiana's romantic rollercoaster in Vermont kicked off when she shared an immediate connection with Canada's Kevin Wendt in the premiere episode of the four-part series. But Kevin also had eyes for Ashley Iaconetti, thus prompting him to end his relationship with Bibi so he could pursue Ash fully. Poor Bibi, right? Not exactly. Of course it's never fun to be broken up with (or whatever this is), but Kevin closing the door on the Bibi thing only opened up the window to a new potential suitor for the Miami native. Enter last-minute New Zealand import Jordan Mauger. He and Bibiana hit it off after a meet-cute convo regarding the correct pronunciation of the word "crepe" and he ended up giving her a rose.
Even though things heated up with Bibiana, Jordan got quite the chilly reception when he met the rest of the Winter Games cast members. Jordan is notoriously known as the "coin flipper" from Bachelor New Zealand's second season — he actually left choosing a winner up to chance, which majorly rubbed viewers the wrong way. Leave it to the guy who seems to be the designated house peacemaker/protector/leader, Ben Higgins, to get to the bottom of it all. After a confrontation about his dubious past, Jordan had the chance to explain himself and make a fresh reality TV start.
After the dust settled, Bibiana and Jordan got to talking and eventual smooching, coupling up in what looks to be a promising relationship based on their apparent chemistry and gushy comments about one another.
"Jordan is actually a really interesting guy. While he definitely made some decisions as the New Zealand Bachelor that I'm sure he regrets, he's also learned from them. I think you'll be pleasantly surprised to see just how seriously he takes things, and just how emotionally invested he becomes in his relationship with Bibiana during his time at the Bachelor Winter Games," Chris Harrison blogged to People following Thursday's episode.
It's unclear as to if Bibi and Jordan are still together post-Winter Games filming — the pair haven't made anything social media official or made any public declarations of love. Bibiana has been hanging stateside and Jordan was back in New Zealand and in the U.S. over the last few months, according to Instagram. "The connections happened very quickly and very maturely," he remarked on Access Hollywood this week regarding Winter Games.
So, did the former Miami Dolphins cheerleader find true romance in Vermont? When asked on KTLA if she thought "real stuff" could develop on a show like The Bachelor, Bibiana pointed to her experience on Winter Games. "Absolutely. I think for me, I left obviously early, but even experiencing Winter Games I thought there and the connections I made with people I thought, this is real. This is your fairytale love story. They just provide a platform for people to meet," she teased. It's hard to know if she's referring to her own fairytale, but it's nice to know she has faith in the process.
Bibi didn't seem to be too pleased with the hand she was dealt on the OG Bachelor, considering the leading man wasn't ideal in her eyes. "I personally feel victimized," she told Ben and Ashley I. on their Almost Famous podcast. "That I didn't get such a good Bachelor!"
Even if Bibiana and Jordan don't go the distance and transcend the odds of what could be a very long distance relationship, we're excited to see what might blossom over the remaining episodes. Let the so-called "Bibisms" continue!