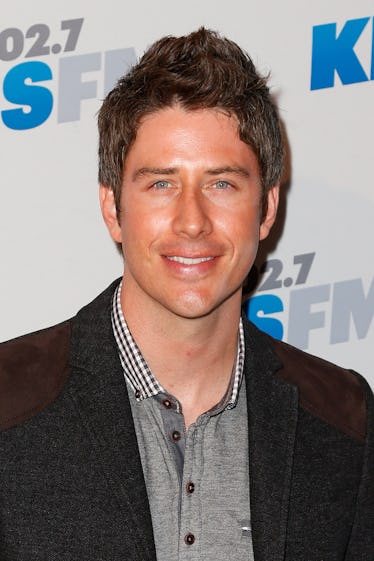 Bachelor Arie Luyendyk Jr. Feels Insecure When Compared To Peter Kraus & We Get It
Imeh Akpanudosen/Getty Images Entertainment/Getty Images
There, there, Arie. Just because everyone thought that Peter Kraus was going to be the next Bachelor doesn't mean you should feel less confident about your position. Listen, 29 women — at this stage, 18 — signed up to live in a house and compete for a dude's affection and nobody hightailed it outta there when they found out that guy was you. Yes, Arie Luyendyk Jr. and Peter Kraus (runner-up from Rachel Lindsay's Bachelorette season) are being compared now that the show is in full swing, and we understand that. Peter was the favorite, Arie swooped in what felt like a last ditch effort to make him happen, and Bachelor Nation accepted that their dreams were dashed. No hard feelings, right?
"In the moment, I was cast really late. I feel like a lot of people were expecting a different Bachelor," Arie recently told Us Weekly about the situation at the Television Critics Association. He also confessed that he was uneasy upon first meeting the women, revealing,
It also gave me a little insecurity that first night. I wanted to make sure whoever was there was there to meet me and if they weren't there to meet me, they'd just give me a chance to let them know who I was.
"I wasn't what everyone was expecting. I totally realize that and that's something that I'm fine with," he also confessed to Variety. "I'm really grateful for the opportunity to be the Bachelor and I was really nervous and excited that first night. And, yes, I did have to sort of get through that and see if the women there were there for me, but that's just part of it. And I was really thankful that was I put in this position."
You may recall that last summer loyal Bachelor viewers were in a tizzy trying to figure out who the next leading man could possibly be. Peter was the frontrunner considering he won everyone over on Rachel's season, despite not being ready to propose to her when it came to the finale. Producer Mike Fleiss tweeted a not-so-subtle hint that Peter probably wouldn't be the next candidate for rose-giving status, writing, "Do we really want a Bachelor who isn't ready to settle down with a woman he loves? Hmmm. Not what #thebachelor." You would think a remark like that would pretty much sealPeter's fate as a no-go in people's mind, but fans kept hope alive.
But that doesn't mean he wasn't asked. Once again, the timing was off for Peter. "It was just a loose conversation of, 'Is this something you have ever thought about, something you would do?'" he told Us Weekly in October. "I was so distraught at that time that it was something that I could never see myself doing." He explained why he rejected the opportunity at the time:
There's a lot of fun — some of my closets friends are from the show. But there are cons too. I feel like you lose control and I'm definitely a control freak. There'd be a lot I wouldn't have final say on, and that would be hard for me.
And so, after years in the making, Arie became the Bachelor. Clearly his lack of Peterness has not affected the women's opinion of him thus far. Arie has already had successful lovey dovey one-on-one dates with Krystal and Becca and many of the other ladies seem smitten with his race car drivin' ways and Kissing Bandit rep. Just because he's not a Wisconsin trainer with killer abs and salt and pepper hair doesn't mean he's any less of catch in their eyes.