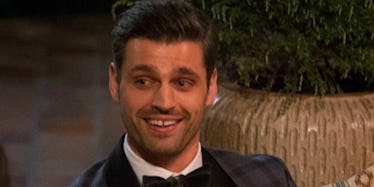 Tweets About Peter Not Being The Next 'Bachelor' Will Make You Want To Cry
ABC
It's a sad day for Bachelor nation, because the decision has been made to make someone the star of the show who isn't Peter Krauss. That's right: The new Bachelor for the 22nd season is Arie Luyendyk Jr. Sure, that's great, but fans were really hoping Peter (from Rachel Lindsay's season of The Bachelorette) would be the go-to guy for the next season of the show. Of course, Twitter is sobbing and the tweets about Peter not being the next Bachelor will make you super emotional.
Before you get your tissues out and start scrolling through your Twitter feed, let's back up a little bit and ask ourselves, "Why wasn't Peter chosen to be the next Bachelor, anyway?" Well, folks, it seems like this decision was mostly on him. According to ABC News, Peter supposedly told producers that he didn't exactly want to be on the Bachelor, but would "consider" it. Referring to Rachel's season, he said, "This entire process has been really tough." Well, this definitely could've led to his decision not to appear as the next season's main man.
It's been reported by ABC Peter also told reporters a statement last month that could've swayed his decision. Apparently, he said,
Being the head of all this, being in Rachel's position, as I saw her go through it throughout the entire time, was a lot of pressure. You are the face of a franchise, you're the face of an entire population of people who love the show and love the people on it and that's hard.
We understand... but Twitter is obviously going to miss you, Peter.
But... why?
We were all rooting for you.
Let's just go back to bed.
Peace out, Bachelor nation.
We ALL wanted him.
"I'm dead inside."
"That's a weird way to spell Peter."
Some people are looking on the bright side, though.
Hey, she has a point. If Peter isn't on the Bachelor, that certainly means he's on the market.
Cheer up, Twitter! It'll be OK.