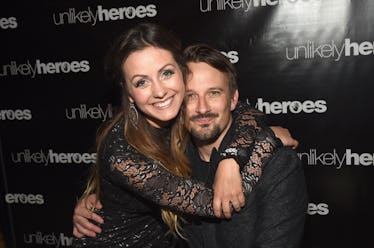 Carly Wadell & Evan Bass' Body Language Proves They've Truly Found Paradise Together
Rick Diamond/Getty Images Entertainment/Getty Images
Ah, Bachelor In Paradise. It's probably the best sh*t show currently on television, if I'm being honest. You'd thinking having dozens of attractive people on a Mexican beach downing margaritas left and right would make for the perfect hookup environment. And it does! But the show has produced some actual, real-life couples that seem to be doing well post-production. For example, a close examination of Carly Wadell and Evan Bass' body language proves that the two love birds are totally making it work after their time on the show.
In fact, according to body language expert Traci Brown, Wadell and Bass are totally crushing married life, and their relationship appears to be completely balanced and healthy. "They show an amazing amount of 'normalcy', consistency and non-drama for getting together on a TV show!" Brown tells Elite Daily.
Yes, you read that correctly. A reality show couple is actually a great example of what a healthy relationship looks like! And while this might not be an excuse to go watch every episode of Bachelor In Paradise ever (but, like, please do that, it's so great), it is an excuse to find out as much as we possibly can about this amazing couple. Seriously, these two are the quirkiest, cutest couple BIP has ever produced.