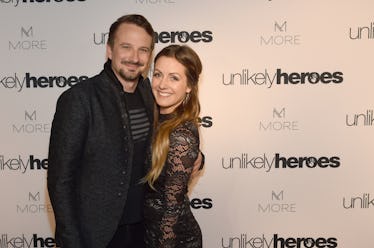 Evan Bass Talked About Carly Waddell Giving Birth & They're Total Couple Goals
Rick Diamond/Getty Images Entertainment/Getty Images
Will this Bachelor Nation couple ever cease to amaze me? The pair may have been ecstatic to welcome their new baby girl Isabella Bass to the world in February, but apparently her arrival wasn't exactly predictable. I'm mustering up my best Chris Harrison impression when I say, Evan Bass' story about Carly Waddell giving birth might be the most dramatic delivery in Bachelor baby history.
On May 9, Bass and Waddell sat down with People to talk about their new lives as parents, and gave fans a bit more detail about the very special day. According to the couple, Isabella's arrival was a bit on the unexpected side, especially since Waddell planned to be induced Feb. 15, the day Isabella was born.
She said,
We were supposed to leave at 5:30 so we were waking up at 4:45, and at 4:30 I realized that my water had broken. I was like, 'this girl is already trying to be in charge.' She's like, 'I know you're trying to induce me, but I've got this. I'm doing it on my own.' And that's very like me.
Just the thought of a mini Carly Waddell 2.0 gracing this world brings tears to my eyes.
The couple continued to talk about the labor process, and Waddell told People that Bass apparently urged her to take an epidural before going through the delivery process.
"Evan was like, 'Don't be the hero, get the epidural!' and I was like, 'Okay!'" Waddell told People. "So I got the epidural and felt amazing."
Nice call there, Evan.
Baby Isabella's early arrival might have been a bit of a surprise, but would it really be a Bachelor baby if there wasn't some twists and turns involved? After all, Waddell and Bass' coupling was perhaps the most unexpected romance during their stint in Bachelor In Paradise. Of course, I was always rooting for the two, but I'm pretty sure everyone saw Bass as a total underdog while he persistently courted Waddell during Paradise — much to her displeasure.
In true fairytale fashion, Waddell eventually warmed to Bass' affections, and the couple tied the knot in June 2017. Quickly after, the two announced in August 2017 that Waddell was expecting their first child. Since Isabella's birth, Waddell has taken to Instagram a few times to share photos of their baby girl. Truth be told, I already see a few roses in her future.
For those who scoff at the possibility of finding love on a reality dating show, these two will definitely shut you up. It's common knowledge that many Bachelor couples tend to fizzle out once their time on screen ends, but Waddell and Bass told People in April 2017 that their relationship got even stronger once the cameras stopped rolling.
Waddell said,
I think that relationship wise, we're definitely more in love than we ever were before. I think we fall more for each other every day which is fun. It was always good, but it's just that as we got to know each other better and better. We fell for each other even harder. We've never had a bad spell. It's always been consistently good.
To be honest, I wasn't sure if I would ever recover from the dumpster fire that was Arie Luyendyk Jr.'s season of The Bachelor. For those who didn't tune in for the show's most recent season, here's a quick rundown. Basically, Arie proposed to Becca Kufrin in the season finale, and she accepted. Then, during the "After The Final Rose" episode, Arie broke up with Becca because he still had feelings for runner up Lauren Burnham. Best of all? This was all broadcasted on national television.
So yeah, love was looking pretty bleak during that time.
Thankfully, Waddell and Bass' relationship is the perfect example that true love does exist, and it can really be found in the most unsuspecting places.
You two deserve all the roses.