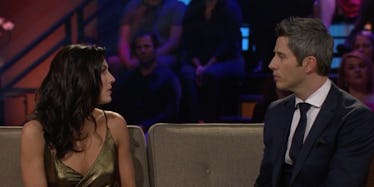 'Bachelor' Arie Admits The Reason He Filmed His Breakup With Becca & I'm Not Buying It
ABC
Well guys, it looks like we all survived The Bachelor breakup to end all breakups. Arie dumped Lauren B. and proposed to Becca, then later turned around and dumped Becca to go back and propose to Lauren B. If you watched After The Final Rose, then you already know that Lauren said "yes." But the bigger, more amazing news to come out of the five-hour, two-part finale is that Becca is going to be the next Bachelorette! Is this why Luyendyk Jr. let cameras follow him around when he dumped her? Bachelor Arie admits the reason he filmed his breakup with Becca, but TBH, I'm not buying it.
Look, I get why Arie is trying to put a positive spin on things. A quick glance at Twitter tells me he is clearly the most hated man in all of Bachelor history, so you can go ahead and take a seat, Luke Pell! The dude is facing major backlash, so of course he went on Good Morning America on March 7 to try and do some damage control. By which I mean he basically claimed that he allowed the cameras to roll during the most awkward breakup ever as a favor to Becca. Um, what?
"I really wanted everyone to know that this was on me," he told host Michael Strahan. "This was my fault, and I felt like filming that would let people know that, that if there were any questions on the breakup, that those would be squashed if they saw the breakup."
Newsflash, Arie: There were no questions. Bachelor Nation already thought it was your fault. I mean, has this guy ever been on Twitter?
Anyway, Arie didn't stop there. He went on to claim there was another selfless motive behind him bringing a whole camera crew to watch him dump and then basically stalk Becca around the house.
"I wanted her that opportunity, honestly, I wanted her that opportunity to be the potential Bachelorette," he explained.
"I hope I gave her that closure," he continued. "I'm very happy for her. I'm happy that she's going to be able to find her true love through the show."
That may all be true, but c'mon, Arie! Can't you just admit that you messed up by blindsiding Becca? That filming your breakup crossed a major line? That it was an incredibly awkward decision, and one you regret ever being a part of it?
"This ending obviously wasn't perfect," he said "I know it's difficult for a lot of people to swallow, but I'm happy, and it took a long, hard road to get here and I'm really solid in my relationship."
Good for you. So it looks like Becca's happy, Lauren's happy, Arie's happy, and even Bekah M is really, really happy.
So let's move on now, mmmkay? Because Becca is the next Bachelorette, you guys! And after Chris Harrison announced the amazing news, our girl got to meet her first five suitors right there on the spot. There was Chase, the "when one door closes" guy; Bryan the cute banjo guy (who is not, it turns out, related to Wells Adams); Darius, the "I apologize on behalf of my gender" guy, and Blake, the guy who rolled up on stage with an actual horse.
But it was very first man out of the gate who quickly became a fan favorite. His name is Lincoln, and it was his birthday! "We've gotta pop some champagne!" Becca told him we she heard the news, because she is seriously just the cutest. Lincoln sweetly shared his excitement for going on Becca's journey with her, and then proceeded to give Bachelor fans the closure we all needed with four little, but oh-so-powerful words:
'Nuf said.