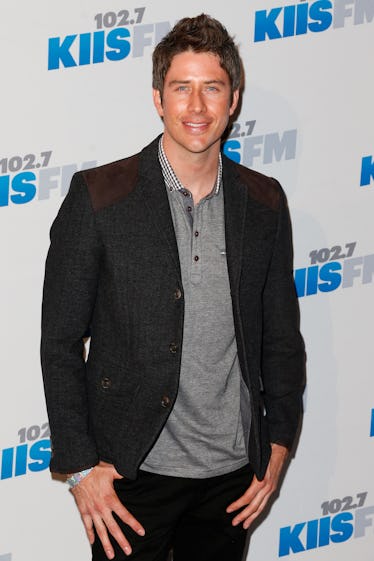 People Are Pissed At 'The Bachelor' For Airing Arie's Breakup With Becca & We Get It
Imeh Akpanudosen/Getty Images Entertainment/Getty Images
Arie Luyendyk Jr. just became the second person in Bachelor history to break up with the woman he proposed to in order to try to get back with his runner-up. Yup, Arie proposed to Becca Kufrin, then weeks later broke up with her because he couldn't stop thinking about Lauren Burnham. The entire breakup was aired on the show as unedited footage, and it was hard to watch. Arie's breakup with Becca on The Bachelor made viewers super angry about the finale.
Honestly, this poor woman. Arie and the show's producers completely blindsided her. She thought Arie was coming over to reunite after some time apart (they were doing long distance for most of their very short engagement), but low and behold, he's actually there to dump her and the show had already started filming the whole thing before she could even ask them not to. The footage is going on for what feels like forever, and it's becoming unrelenting. Twitter is pissed that the show decided to treat Becca this way, trying to pass it off as intriguing TV. But most people feel ABC took it too far and crossed a line.
Where is the lie? Even former Bachelor cast members think this is messed up.
The show started airing the unedited footage with a bunch of time still left in the finale, and you guessed it, most of that time was filled with this damn footage. Becca made an appearance on the finale and I honestly have no idea why. Harrison asked her during the interview how she felt about having to watch the footage and essentially relive that awful day again, and I'm genuinely surprised she didn't lose her sh*t on Harrison and ABC right then and there.
Bachelor alums Sean Lowe and Vanessa Grimaldi tweeted their disapproval of ABC's decision to air so much of the breakup. Lowe initially tweeted, "Please don't tell me they blindsided this poor girl," then followed it up with, "I don't like this one bit. Shouldn't have filmed." Vanessa Grimaldi tweeted, "Okay...watching now...I want to vomit." Girl, same. Other people are tweeting things like, "I know #TheBachelor producers think this is compelling TV, but at a certain point (and we've FAR passed it), it's just straight up exploitation. This is gross," and "I can't believe the humiliation they are putting this girl through on tv." And to top all of this off, we haven't heard how Lauren Burnham feels about all of this yet!
When Jason Mesnick broke off his engagement in order to be with his runner-up, Molly, we saw the breakup happen in the "After The Final Rose" segment. Miraculously, Jason and Molly Mesnick are still together and have two kids. So who knows, maybe this decision will work out for Arie and Lauren, but only time will tell if she's actually interested in taking him back now. In a trailer for the finale, Becca actually voiced her concerns about Arie's feelings for her. She said in a clip obtained by E!,
I was very nervous going into meeting his family. But I know that they notice the differences between Lauren and I — they called that out. At this point, I just want some clarity on where he stands. This entire process Arie keeps saying that I seem so confident. But the fact is I internally am freaking out because there's one other girl here still and she is a huge threat to me.
Becca and Lauren were already nervous enough going into the finale, how were either of them to expect Arie would pull something like this? This show is unreal, people.