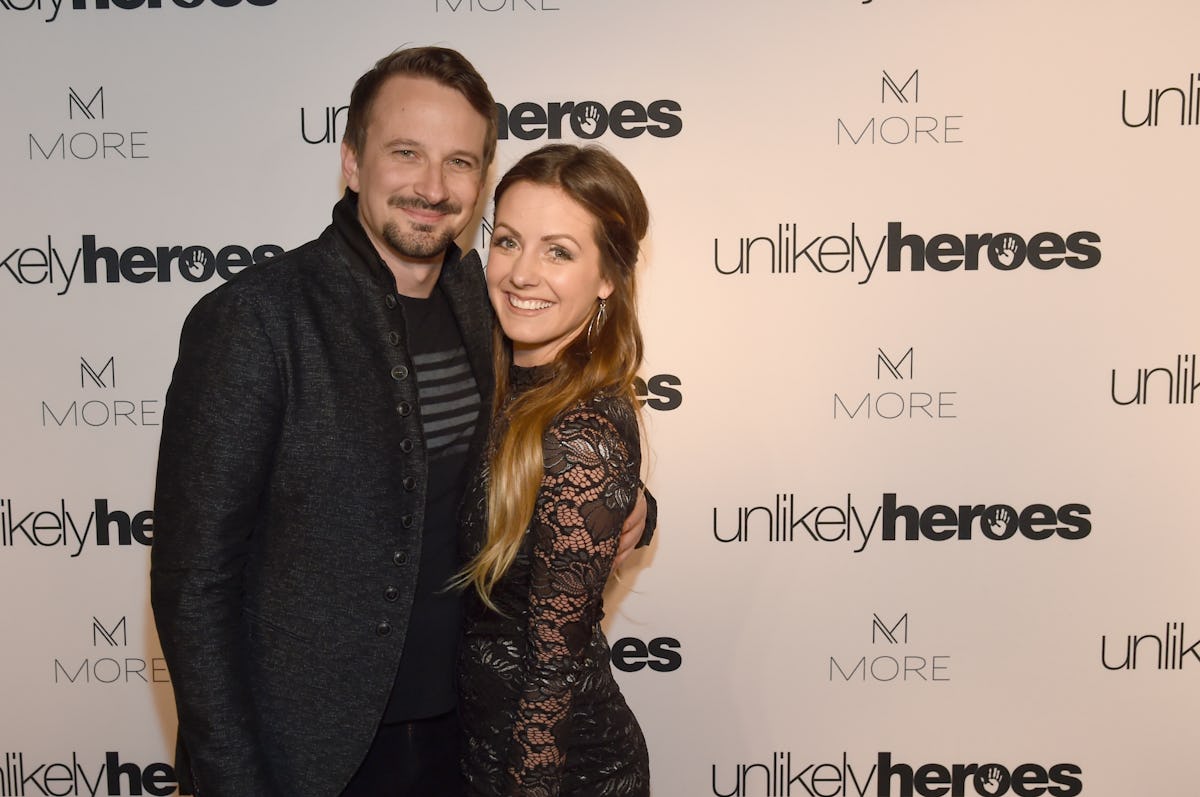 Carly Waddell & Evan Bass' Baby Is Here & The First Picture Is Too Adorable
Rick Diamond/Getty Images Entertainment/Getty Images
It's no secret that Carly Waddell and Evan Bass basically won Bachelor in Paradise. The couple's connection took everyone by surprise, especially Wadell, but that didn't stop them from tying the knot in June 2017. Now, the reality duo is writing a new chapter in their lives, a baby girl. This picture of Carly Waddell and Evan Bass' baby proves that love truly happens in the most unsuspecting places.
Waddell and Bass welcomed Isabella Evelyn Bass into the world on Feb. 15. The little girl is the couple's first child together. Waddell took to Instagram to introduce the latest addition to the family by posting a precious picture of her, Bass, and little Isabella along with a heartfelt caption expressing her joy and excitement.
She wrote,
We are so happy to announce the birth of sweet Isabella Evelyn Bass. She weighs 6lbs 8 ounces and has currently stolen her dad's heart. The birth was amazing with no complications and I'm high over the moon with happiness. also high from pain meds.
Classic Carly Waddell to throw some much needed humor into the mix.
BIP's favorite couple announced Waddell's pregnancy on Aug. 6, 2017 during an exclusive interview with People. "We are so happy to be expanding our family as we welcome Baby Bass in 2018," the couple told People.
They expected baby Isabella to be due sometime in February. Clearly they're already killing the parental game.
They are absolutely GLOWING and I am absolutely LIVING for it.
In classic Bachelor alum form, Waddell and Bass revealed Waddell's pregnancy via Instagram.
On Aug. 6, 2017, she wrote,
SECRET IS OUT GUYS!!!! Evan and I are SO EXCITED to announce we are HAVING A BABY!!! What a beautiful, wonderful, wild year it has been and the adventure continues Feb 2018! (also Evans face here is hilarious and wonderful)
Isabella's entrance into the world will make her the first daughter of the Bass household. She'll be the little sister to Nathan, Liam, and Ensley — Bass' sons from a previous marriage.
I don't know about you, but it's about time some more estrogen entered that family.
Also, let's please take a moment to appreciate this iconic #tbt Instagram Waddell posted on Sep. 14, 2017, which shows a positive pregnancy test hidden in one of Waddell's small clutch bags.
If you have issues with people finding love on reality television, these Bachelor alums will definitely change your mind.
Throughout season 4 of Bachelor in Paradise, Bass ardently courted Waddell, at her oftentimes displeasure. However, it was a medical emergency for Bass that made Waddell see her (now hubby) in a new light. She stayed by his side the entire night.
Now look at these lovebirds. Love truly works in mysterious ways.
While speaking to People, Waddell and Bass dished on maintaining a relationship post Paradise. While some couples are bound to fizzle out, Waddell and Bass revealed that their relationship has gotten even stronger since the show came to an end.
Waddell said,
I think that relationship wise, we're definitely more in love than we ever were before. I think we fall more for each other every day which is fun. It was always good, but it's just that as we got to know each other better and better. We fell for each other even harder. We've never had a bad spell. It's always been consistently good.
So good. So so good.
Waddell and Bass' baby girl is just one of a few Bachelor babies that have been born recently. On Aug. 17, 2017 Jade and Tanner Tolbert welcomed their daughter Emerson into the world as well. The Tolberts, better known by their couple name "Janner" were also fan favorites during their run in season 3 of Bachelor in Paradise, and also close friends to Waddell and Bass!
With so many Bachelor babies being born, I see a spin-off coming our way in the near future. Chris Harrison, you better be listening...