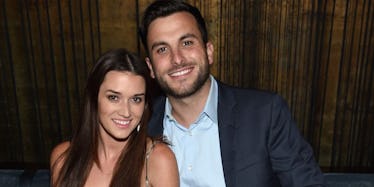 Jade & Tanner From 'The Bachelor' Welcomed A Baby Girl And She's Adorable
Jamie McCarthy/Getty Images for WE tv
Jade and Tanner are parents! The couple that met on Bachelor in Paradise welcomed their baby girl on Thursday, Aug. 17, and the new family looks so happy in their first photo. Jade and Tanner's baby was born happy and healthy around 10 a.m., according to the couple. Her name hasn't been released yet. The couple said in a statement to E! News,
She's here, our little sweetheart! Tanner and I are very proud to announce the arrival of our baby girl this Thursday morning. There's truly no words to describe the feeling holding you in our arms for the first time and looking into your eyes. We love you, precious girl.
Jade announced the baby girl's arrival on Instagram with an adorable photo of her, Tanner, and the baby with a moving caption that read,
We did it! Our little sweetheart is here! She arrived on her own terms, quickly and 4 weeks early, but she is perfect in every way, healthy and doing well. Precious little girl, there are no words to describe the feeling of holding you in our arms for this first time and looking into your beautiful eyes. We love you so much. #bestdayever #ilovemyfamily (Thank you, @avawomen for helping us start our family.)
Look at that little nugget!! Tanner also posted a photo of his new family, captioned,
Love My Girls... @babyjanner arrived this morning at 10:03 AM... she decided to surprise us and come a little early... but mom and her are doing great... Best day of my life.
Now that we have these adorable photos, tell us the name already!!! Don't leave us hanging, Janner! Jade and Tanner have posted about their baby journey throughout the entire pregnancy. They even made an Instagram account for Baby Janner where they posted adorable photos of the family getting ready for the baby's arrival, from the POV of the baby, of course. They've also posted hilarious videos like the one below on their own Instagram accounts.
They first announced their pregnancy in March of 2017, and then revealed the sex in May. They made the announcement on their respective Twitters. Jade's post said,
We're crazy grateful to finally announce a little secret we've been keeping! We're absolutely head over heels in love already!
Congrats to the new mom and dad!