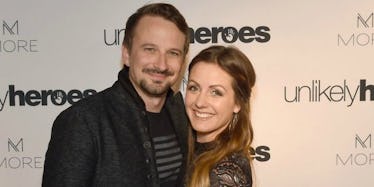 Here's When 'Bachelor In Paradise' Fans Can Expect Carly & Evan To Have Their Baby
Rick Diamond/Getty Images
Bachelor fans rejoice. Two of our favorite alums, Carly Waddell and Evan Bass, have announced that they will be bringing a Bachelor baby into the world. Yassss. The Bachelor In Paradise couple revealed on August 6 that they are expecting, and people lost their minds wondering when this little miracle will enter our their lives. Carly Waddell and Evan Bass' baby is due in February, so fans have a lot of time to gush and obsess.
After the duo shared their news with People during the August 6 interview, Waddell posted an adorable photo of her and Bass with the caption,
SECRET IS OUT GUYS!!!! Evan and I are SO EXCITED to announce we are HAVING A BABY!!!! What a beautiful, wonderful, wild year it has been and the adventure continues Feb 2018! [baby emoji, heart emoji] (also Evans face here is hilarious and wonderful)
The news came as a bit of a surprise because the couple just tied the knot on June 17. The adorable twosome very publicly found love on Season 4 of Bachelor in Paradise. They ended up getting married where it all began — in Mexico. They discussed some of the intimate details of their special day with People:
There was no better way to celebrate the start of our forever journey together. The setting, in a garden overlooking the ocean, created a stunning visual that I don't think anyone will forget. Evan's children delivered heartfelt and hysterical speeches that had everyone laughing and crying simultaneously. The love from Bachelor Nation has been overwhelming and we are so grateful to all who helped make this day amazing.
However, the two were excited to start the rest of their lives together. Bass told E! Online,
We are so excited to welcome this new addition to our family. We wanted to start having children quickly, and mission accomplished.
Record speed, if you ask me. The baby will be joining an already large family in Nashville, Tennessee. Bass has three sons — Nathan, Liam, and Ensley — from a previous relationship. One thing is for certain: This baby will be surrounded by love.
Waddell and Bass have come a long way since Paradise. They have definitely proved that anything is possible with love and hard work. Can't wait to welcome this sweet Bachelor baby into the world. Congrats, Evan and Carly!