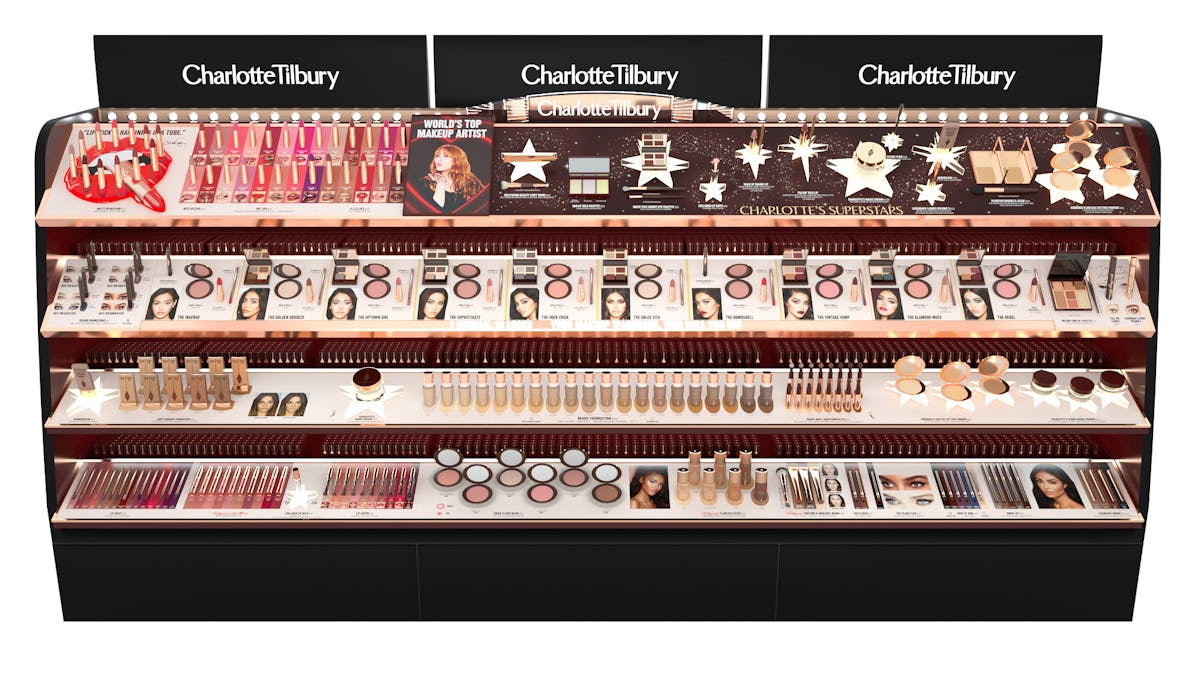 Someone Pinch Me, Because Charlotte Tilbury Products Are Finally Coming To Sephora
Courtesy of Charlotte Tilbury
Attention, all glamour-loving, makeup-hoarding beauty queens: Your favorite (or soon-to-be favorite) cosmetics brand are about to be even easier to get your hands on. When you think of old Hollywood glamour, luxury beauty, and supermodel radiance, what brand first comes to mind? I know my pick, and while it seems too good to be true, it's true indeed: Charlotte Tilbury will soon be available online at Sephora, as well as in Sephora stores.
If you're unfamiliar with Charlotte Tilbury, allow me to hype up one of my favorite brands just a little bit more. The brand was founded just five years ago by Charlotte Tilbury herself, a renown celebrity makeup artist of 25+ years. Since then, it's become a favorite among actresses, models, and general beauty lovers everywhere. Tilbury's worked with everyone from Kate Moss and Amal Clooney to Kim Kardashian West and Penelope Cruz, and Tilbury herself is never spotted without a full face of glam perfectly applied. She has a flair for the dramatic and a warm, welcoming personality that lines up with the brand's mission of empowering women and inspiring confidence beyond just one's appearance. What could be better than a radiant, powerful woman creating gorgeous, high-quality products? TBH, not much, which is why I stan this line so hard.
Tilbury recently announced that on Sep. 13, the brand will be available to shop on Sephora.com, as well as in 40 Sephora retail stores in the U.S. and Canada on Sep. 14. This news follows the successful launch of the line in Sephora Germany, and it will be the first time U.S. customers get the opportunity to shop and swatch in a beauty-focused retail environment like Sephora. Prior to this, the brand has solely been available on the Charlotte Tilbury website, as well as on Net-A-Porter, Beautylish, and a few major department stores, including Nordstrom, Bergdorf Goodman, and Bloomingdale's.
"For me, Sephora was a natural partnership because of the amazing synergy between our brands," said Tilbury in a press release about the big launch. "Two revolutionary, beauty expert, tech-forward, rule-breaking, educational backgrounds, brands of firsts, coming together to share even more makeup magic with the world!!"
As someone who's been shopping the brand for years, I'm pretty familiar with the wide variety of products Charlotte Tilbury offers. So much so, in fact, that while scouring the internet to deliver you this news, I found a photo of my pre-blonde self shopping the line at an event. Behold, my intern white blazer and my pretending-not-to-see-the-camera awkwardness, as I fawn over the Filmstar Bronze & Glow ($68, sephora.com), aka the perfect contour and highlighter duo.
What's that? You'd like some more product recs? Allow me to indulge my obsession and help you foster your own with the following must-haves you can snag at Sephora come Sep. 13, 2018.
This is the hero product that started it all. Charlotte's Magic Cream ($100, sephora.com) is a hyaluronic acid-infused moisturizer that Tilbury would whip up by hand and use to prep models and actresses backstage and before big events. When her clients began asking to get their hands on the product for regular use, Tilbury knew she had something special, and her brand began.
What I'm about to say is 100 percent fact: In my beauty collection, you will find around 60 to 70 blushes. The only one I use is the Beach Stick in the shade "Moon Beach" ($45, sephora.com). And I'm not ashamed, because it's seriously the best! The creamy formula applies and blends out like a dream, and the peachy shade has a little rose gold sheen that acts like a built in highlighter. If you aren't a cream blush gal, I'm here to tell you that this one will change your mind. "Moon Beach" is one of my desert island picks for sure.
Over the years, the brand has become known for their incredible lipstick formulas, one of which is the Matte Revolution Lipstick ($34, sephora.com), as seen here in the shade "Very Victoria." Cute name, right? It's inspired by none other than Victoria Beckham and her signature taupe-y nude pout.
Tilbury is known for her iconic signature looks, all of which she has created corresponding shoppable products for. The Dolce Vita girl is described as "ultra feminine and utterly alluring," and the Dolce Vita Luxury Palette ($53, sephora.com) is the ultimate copper smoky eye kit.
If you're looking forward to this launch as much as I am, get ready to celebrate, because the brand won't just be popping up out of nowhere. In true Tilbury fashion, it will be making a grand entrance. Throughout September, Sephora stores will offer complimentary select Charlotte Tilbury looks at the Sephora Beauty Studio, and the brand's Pro-Artist team will be offering mini makeovers at the following dates and locations: (1) Sep. 15 at Sephora Eaton Centre in Toronto, Sephora Valley Fair in San Jose, Sephora Michigan Ave in Chicago , and Sephora Prudential in Boston, and (2) Sep. 16 at Sephora Powell Street in San Francisco.
As a bonus, Sephora shoppers will also get early access to the brand's latest launch, the Bar of Gold Highlighting Palette ($58, sephora.com), until it launches elsewhere on Oct. 11. We love a sneak peek!
To make the launch even more exciting, a contest is being held for us beauty-lovers: Influencers are being asked to create looks using the brand's Superstar products, and to post the final looks to Instagram. The winner will be announced by Charlotte herself when she makes an appearance in New York City on Sep. 13 at the Sephora 34th Street store. The winning look will be available on Sephora's Service Menu all month long.
If you're already a die-hard Charlotte Tilbury fan like myself, you'll be strutting into Sephora stores on Sep. 14 prepared to buy out all of Tilbury's signature looks. My only request is that, if you're buying from Sephora.com on Sep. 13 in bulk, you save a few Beach Sticks in "Moon Beach" for me.