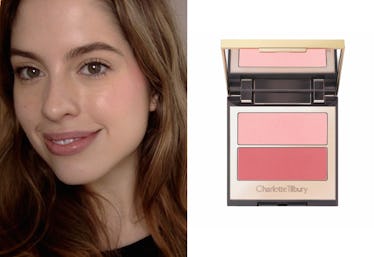 I Tried The Makeup "Filters" That Debuted At The Royal Wedding & Wow
Sophie Wirt/Charlotte Tilbury
Charlotte Tilbury just dropped three new products, and they're perfect for achieving an I-woke-up-like-this glow. The products, which launched on May 31, are the latest additions to the makeup maven's social media-inspired line, dubbed the Beauty Filters Collection. What's more, Charlotte Tilbury's Pretty Youth Filters and Collagen Lip Bath are already celeb-approved.
Allow me to explain.
Before they hit the shelves, Tilbury's latest launches were responsible for some of the most gorgeous makeup looks at the 2018 Met Gala, and most recently, at the royal wedding. Specifically, Tilbury conducted test runs of her yet-to-be released lip and cheek goodies on Kate Upton, Sarah Jessica Parker, Ruth Negga, Gabrielle Union, Shailene Woodley, and Salma Hayek. Needless to say, I was elated when I heard Tilbury would be releasing the Pretty Glow Youth Filters and Collagen Lip Bath to non-celebs like myself. (I don't quite look like Amal Clooney yet, but at least I can say I'm one step closer!)
Let's take a peek at the products, shall we? First up, the aptly-named Pretty Youth Glow Filters ($40; charlottetilbury.com). These cheek perfecters were created to mimic that elusive rosy glow that only Snapchat could bestow (that is, until now!). The product comes in two super-flattering shade variations: Pretty Fresh and Seduce Blush.
As Tilbury puts it, these products fake a believable "just-ran-through-the-meadow-glow." And they deliver said glow, thanks to a cream-to-powder formula that's creamy but not smeary; dry but not cakey. The secret is a blend of silica plus two different types of waxes, which create a formula that's easy to sweep up with a brush (without it looking like powder on the skin).
Speaking of brushes, Tilbury released a special one, the Cheek Hug, designed to glean the prettiest, most natural-looking glow from the palettes. The slope-shaped bristles pick up juuuust the right amount of each shade and "hug" the contours of the cheekbone to deliver perfect application every time.
You can buy the cheek palettes without the brush, but I would highly recommend snagging the palette + brush bundle — the Cheek Hug is truly a game-changer if seamlessly blended blush is your goal. As for which palette shade to snag, you truly can't go wrong with either one — it really depends on what type of look you're going for. The Pretty Fresh palette is similar to traditional blush in that it reads rosy and flushed, whereas the Seduce Blush reads more like a warm highlighter, thanks to finely-milled pearlized pigments.
Either palette goes smashingly with the new Charlotte Tilbury Collagen Lip Bath ($35; charlottetilbury.com), mostly because the latter imparts the ideal, rosy, your-lips-but-better hue. But this lippie imparts more than just a pretty glow: as the name suggests, it contains collagen, which is said to smooth and plump lips. (On the other hand, if you're looking for one of those super-tingly plumping glosses, this is not it...though it does contain peppermint oil.) Yes, the shine does give lips a plump 3-D effect, but the formula leaves them soft and shiny more than inflated.
In fact, this gloss leaves lips so soft that it creates an incredibly hydrated canvas for lipstick. Incidentally, Lady Kitty Spencer wore it under her lipstick for the Royal Wedding (in addition to a host of other Charlotte Tilbury products).
But the Collagen Lip Bath isn't the only shiny thing about these new launches. All three products are housed in the brand's iconic gold-gilded packaging, which, to be honest, is pretty enough to make me want to buy everything Charlotte Tilbury has ever created.
You can snag the new Charlotte Tilbury Pretty Youth Glow Filters for $40 each, ($60 with Cheek Hug brush), along with the new Charlotte Tilbury Collagen Lip Bath for $35 on CharlotteTilbury.com starting today. The products are listed as limited edition, so you'd better shop quickly if you want a gala-worthy glow!