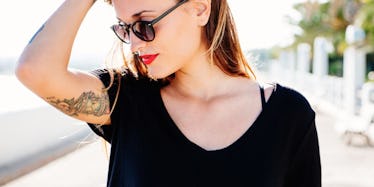 Shimmer Cream Is The Korean Beauty Product You Didn't Know You Needed
Imagine having a sweet tooth that's uncontrollable. Without warning, you're escorted into the middle of Willy Wonka's factory and told to run wild without restraint. Pretty incredible, right?
The aforementioned sugar-palooza is a lot like being a beauty editor. I'm a fiend for gorgeous palettes and rich formulas, and dozens of new products hit my desk on any given day. As overwhelming as the experience can be, it also means products get lost. Saying there's a lot to try is an understatement.
What I'm saying is this: When a product immediately catches my eye and goes into rotation, it's pretty rare. But that's what happened with 24/7 Touch Up Skin-Perfecting Cream, a Korean beauty pick in a sleek pink tube. After a few days of regular use, I reached out to Peach & Lily founder Alicia Yoon to ask a simple question. What is this? The cream was too subtle to be a highlighter, too shiny for a BB cream.
24/7 Touch Up Skin-Perfecting Cream, $22, Peach & Lily
Yoon, who's become one of the foremost influencers bringing Korean beauty trends across the ocean to the US, calls the product a shimmer cream, designed for applying just to the cheekbones (like a highlighter) or mixing with foundation for full-face glow.
She says the mark of a quality shimmer cream is that it almost exactly mimics the look of extra-glowing skin, the way it looks after leaving a facial.
Yoon explains,
It isn't powdery nor is it a glossy, slightly oily finish. It's a thin cream that is moisturizing and helps with firming, and leaves a slightly thicker texture to ensure skin looks like healthy, hydrated skin.
If you're interested in trying a shimmer cream for yourself, Yoon advises you start with your under eye bags. Mixing it with your concealer can help cancel out the fact that you stayed up until 2 am watching "Stranger Things."
Interestingly, shimmer creams aren't just a makeup fix. The product contains licorice to really brighten skin, as well as adenosine to boost collagen production. Using them over time will actually make your skin healthier, not just fake it.
Looking for similar products? Yoon stands by 3CE's budget-priced Back To Baby Glow Beam Cream, as well as Koh Gen Do's Aqua Foundation Illuminator, which comes in three shades. She also loves Espoir Dewy Face Glow, which has a baby-pink bottle that'll look Instagram-worthy sitting on your vanity. (Looks are an important consideration for beauty nerds.)
3CE Back To Baby Glow Beam Cream, $21, Stylenanda; Koh Gen Do Aqua Foundation Illuminator, $39, Nordstrom; Espoir Dewy Face Glow, $34, Amazon 
According to the K-beauty pro, all shimmer creams share three things: skin-boosting ingredients, silky texture and a finish that says "I woke up like this."
Yoon says you'll soon start seeing American brands make their own shimmer cream formulas, especially because the "barely any makeup" look is so popular at the moment.
She adds,
It's focusing on a slightly more made up look versus the complete no-makeup makeup look, but still with an incredibly subtle finish. I don't think it will replace standard highlighting altogether, but it is definitely seen as an alternative for those who like a less contoured or highlighted look.
In other words, if you want to look like a Kendall Jenner directly post-green smoothie and pre-makeup chair, shimmer cream is your new must-have.