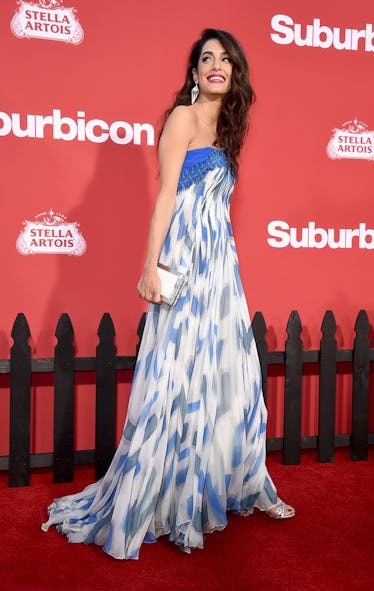 Amal Clooney's Net Worth Is In The Millions, Too, So Watch Out George
Kevin Winter/Getty Images Entertainment/Getty Images
Amal Clooney is, hands down, one of the most beautiful specimens on this planet. She's drop-dead gorgeous (clearly, that's a given), but she's also a super-driven and talented lawyer and activist and an all-around boss. Don't even try to fight me on any of these facts, because you will not win. The best part? Being married to George Clooney is like, probably the tenth coolest thing about her. She's that awesome. So, for someone with a resumé like hers, what is Amal Clooney's net worth? When you hear the number, you won't even be surprised, because she's totally deserving of every penny.
According to Celebrity Net Worth, Clooney has a net worth of $10 million. The site describes her as a "London-based British-Lebanese lawyer, activist and author" who "specializes in international law, criminal law, human rights and extradition and her clients include the likes of Julian Assange, the founder of WikiLeaks (in his fight against extradition)."
I know, I know. She's a total badass.
And a little bit about her husband, George Clooney. According to Celebrity Net Worth, George Clooney has a net worth of $500 million, and yes, I'm having a hard time digesting that number, too. You can thank his endless list of talents, like acting, screenwriting, directing (and being a humanitarian) for that cash flow, and the site describes him as "one of most sought-after A-List actors in Hollywood" but LOL, we already knew that.
Either way, that salary is very, very, very staggering, even for one of Hollywood's most prominent actors.
Damn right it is, George.
But you know what? This power couple is totally worthy of everything that comes their way. Plus, the two seem so in love that it's almost sickening but in, like, the best way possible, you feel me?
In an interview with Vogue, Amal talked about her budding romance with George back when they first met, and it will make you actually swoon.
"It felt like the most natural thing in the world," she said. "Before that experience, I always hoped there could be love that was overwhelming and didn't require any weighing or decision-making."
She continued, saying, "It's the one thing in life that I think is the biggest determinant of happiness, and it's the thing you have the least control over. Are you going to meet this person? I was 35 when I met him. It wasn't obvious that it was going to happen for me. And I wasn't willing or excited about the idea of getting married or having a family in the absence of that."
Like I said, fam. Bad. Ass.
Amal also talked about their twins, Alexandra and Ella, who were born in June of 2017 and have stayed out of the public eye (because the Clooneys are surprisingly low-key people for being famous philanthropic millionaires). She revealed to Vogue that they've been starting to speak a bit, and that their first word was "Mama."
"We've had some 'mamas' and 'dadas,'" but added, "George was very careful to ensure that 'mama' was the first word."
Of course George Clooney would ensure that his children's first word would be about the woman he loves and adores. OF COURSE HE WOULD.
Just remember, kids, that Amal Clooney, an impressively stunning, human rights lawyer didn't find love until later on in life, so don't ever feel down on yourself if you're still searching for your Mr. Right.
But also, JK! Amal Clooney didn't need to find a man — our girl is successful and smart, and oh yeah, a millionaire. George Clooney is totally just a bonus.