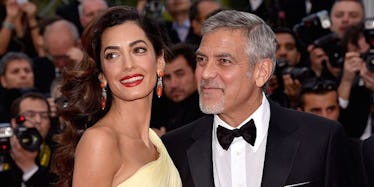 The Funniest Tweets About The Birth Of Amal And George Clooney's Twins
Clemens Bilan/Getty Images
LISTEN UP, PEOPLE: George and Amal Clooney have officially become parents!! Yes, Amal, a human rights lawyer, gave birth to a boy and a girl on Tuesday, June 6, and people are loving their names.
Ella and Alexander Clooney have been reported happy and healthy by a representative of the family. ELLA AND ALEXANDER?! Be still, my beating heart.
The rep for the Clooney family said in a statement to E! News,
This morning Amal and George welcomed Ella and Alexander Clooney into their lives… Ella, Alexander and Amal are all healthy, happy and doing fine. George is sedated and should recover in a few days.
Now, since the internet exists, there are, of course, some great Twitter reactions to the news of the birth of the Clooney twins, and we're finding the best ones.
Lots of people are just pleased Amal and George gave the babies "normal" names.
Although, some aren't...
Many are making sure the headlines surrounding the news are giving credit to Amal's long list of accomplishments as a human rights lawyer.
As opposed to just labeling her "George Clooney's wife," like AP did.
Amal is so much more than just a WIFE, AP!!!
In case you didn't know, Amal is an extremely accomplished human rights lawyer who has been working to help Syrian refugees for years.
Even Hollywood makes jokes about how much more impressive Amal is compared to George. Tina Fey and Amy Poehler took an iconic dig when they hosted the 2015 Golden Globes.
And then there's this tweet from Rainn Wilson that isn't about the twins and isn't even from today, it's just funny.
But the funniest reaction to the news came from the statement about the birth itself.
You know, the part where it says, "George is sedated and should recover in a few days."
LMAO, oh, George. Always the jokester!!!!
Congratulations on your bundles of joy, George and Amal! I expect they'll be ready for their first bar exam next week.