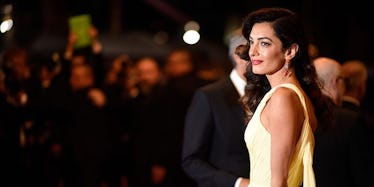 People Are So Pissed At The Media For Calling Amal "George Clooney's Wife"
Clemens Bilan/Getty Images
Amal and George Clooney welcomed beautiful baby twins today, placing all eyes on the famous couple.
Ever since infamous bachelor George decided to make it official with Amal, she has been regularly labeled and named in the press as "George Clooney's wife," most recently in headlines regarding her birth.
However, one person challenged that title, pointing out that Amal is so, so much more, saying, "I think you mean Amal Clooney, noted human rights lawyer... "
GREAT POINT!
In addition to dedicating her life's work to the betterment of humankind, Amal has accomplished more in the last 10 years as a lawyer than most of us do in a lifetime.
Her high profile clients include the likes of former Ukrainian Prime Minister Yulia Tymoshenko, Wikileak's Julian Assange, and three Al Jazeera journalists who she worked to free from imprisonment in Egypt... just to name a few.
Additionally, she is president of the Clooney Foundation for Justice, designed in 2016 to continue the advancement of justice in courtrooms, communities, and classrooms around the world.
Another cool little detail about George Clooney's wife? She's partnered with the global Aurora Humanitarian Initiative to send one female student from Lebanon (her home country) to the United World College Dilijan each year for a two-year international baccalaureate program.
She also speaks three languages — English, French, and Arabic — BUT YOU'RE RIGHT, MEDIA. DID WE MENTION SHE LOOKS GREAT IN A DRESS WHEN STANDING NEXT TO A FAMOUS CELEBRITY?
Ugh.
The problem with this kind of labeling, while it should be obvious, is that it suggests being the sidekick to a famous man is more valuable than the humanitarian and personal career achievements she has made, not only as an individual, but as a woman.
Sure, Amal can now add "mother" to her already impressive list of titles, but wife and mom are just two of the many important puzzle pieces that make up this amazing lady.
Congratulations, Amal! (And George, yada yada.)
Citations: Amal Clooney Accomplishments (Time), Amal Clooney Achievements (Refinery 29), 100 LIVES LAUNCHES THE "AMAL CLOONEY SCHOLARSHIP" (Aurora Prize)