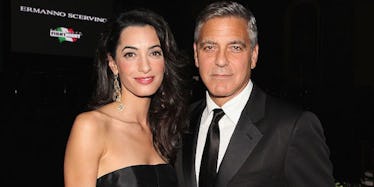 Amal And George Clooney Just Welcomed Their Twins Into The World
Andrew Goodman/Getty Images
Amal and George Clooney are officially parents!
That's right: The objectively perfect couple comprising the actor and the human rights lawyer just welcomed twins Ella and Alexander into the world and the entire internet is squealing.
A rep of the couple confirmed the announcement to E! News in a statement:
This morning Amal and George welcomed Ella and Alexander Clooney into their lives ... Ella, Alexander and Amal are all healthy, happy and doing fine. George is sedated and should recover in a few days.
Oh, George!
People have literally been waiting their entire lives for George Clooney to find love and now I'm literally crying my eyes out into my coffee because Clooney is a dad!
AND DON'T EVEN GET ME STARTED ON AMAL BEING A MOM. She is literally the most majestic woman I have ever seen. Listening to her talk that ~lawyer talk~ is like a lullaby because her voice is so damn soothing.
The pair announced their pregnancy back in February, just after Beyoncé announced her pregnancy in the now most-liked Instagram of all time.
The news was first announced by host Julie Chen on The Talk. She said,
Congratulations are in order for George and Amal Clooney. 'The Talk' has confirmed that the 55-year-old superstar and his highly accomplished 39-year-old attorney wife are expecting twins. Give her the armrest, by the way, she's pregnant! … Now, what we did find out that no one else is reporting is that the twins are due this June. The two have been married for just about two and a half years.
We learned the babies were going to be a boy and a girl shortly after, when George's mother confirmed the couple was expecting one of each.
She said,
It will be one of each! Yes, a boy and a girl. That's what I've been told. How marvelous! My husband and I are extremely excited.
Clooney's close pal Matt Damon apparently almost started crying when he heard the happy news about the couple. He said,
I was working with [George Clooney] last fall and he pulled me aside on set and I mean, I almost started crying. I was so happy for him. And I was like, 'How far along is she?' And he goes, 'Eight weeks.' [And I said], 'Are you out of your mind? Don't tell anybody else! Don't tell anybody else! Don't you know the 12-week rule?' Like, of course he doesn't.
WE ARE ALL MATT DAMON CRYING FOR THE CLOONEYS.
Congratulations, Amal and George. I pray that your babies become best friends with Beyoncé's twins.
Citations: Amal And George Clooney Gave Birth To Twins (E Online)