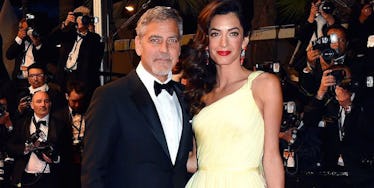 Amal And George Clooney Wasted No Time Revealing The Genders Of Their Twins
REX/Shutterstock
PLACE YOUR BETS NOW! WE'VE GOT THE GENDERS OF THE FUTURE CLOONEY TWINS!
Last week, the world took a moment to stop being mad at everything and celebrate Amal and George Clooney's' pregnancy announcement.
The second most regal couple on the planet (*bows* one love, Kate Middleton) had their pregnancy cover blown on "The Talk" by Julie Chen.
We now have official confirmation about what kind of babies Amal is cooking up, thanks to an interview Radar Online did with George's wayyyyyyyyyyy too eager mother.
During the interview, she said,
It will be one of each! Yes, a boy and a girl. That's what I've been told. How marvelous! My husband and I are extremely excited.
Ah yes, the ol' gender split.
Not that it matters what genders the twins are, I'm sure as long as they have 10 fingers, 10 toes and have Oscar-contender potential, then we should be fine.
George Clooney's mom is taking the opportunity to talk about her future grandchildren anytime she gets the chance. During an interview with US, she gushed,
We are extremely happy for George and Amal, and I cannot imagine two people who would be better parents. We were with them and they told us together. We were all together, and it was lovely. It was just a personal moment.
She isn't the only one taking a moment to appropriately freak out over the new Clooneys.
Matt Damon almost started crying when he heard about the kids. He told ET Canada,
I was working with [George Clooney] last fall and he pulled me aside on set and I mean, I almost started crying. I was so happy for him. And I was like, 'How far along is she?' And he goes, 'Eight weeks.' [And I said], 'Are you out of your mind? Don't tell anybody else! Don't tell anybody else! Don't you know the 12-week rule?' Like, of course he doesn't.
CINDY CRAWFORD IS ON BOARD ALSO (for Tequila, and also those babies)!
BRING ON THE BABY CLOONEYS!
Citations: George & Amal Clooney's Twins' Genders Revealed — Find Out How They've Hit The Jackpot! (Perez Hilton)