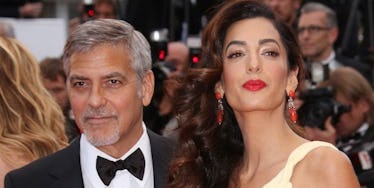 Move Over, Beyoncé: Amal And George Clooney Are Expecting Twins
REX/Shutterstock
Multiple births are so hot right now.
If you're thinking of having kids, but can only afford to poop out one baby at a time, don't bother calling yourself a star.
Last week, Beyoncé and Jay Z announced they are expecting twins. Today, George and Amal Clooney hopped on the two-for-one bandwagon with the same revelation.
"The Talk" host Julie Chen broke the news on her show on Thursday in terms we can all understand: armrests.
She said,
Congratulations are in order for George and Amal Clooney. 'The Talk' has confirmed that the 55-year-old superstar and his highly accomplished 39-year-old attorney wife are expecting twins. Give her the armrest, by the way, she's pregnant! … Now, what we did find out that no one else is reporting is that the twins are due this June. The two have been married for just about two and a half years.
Thank you, Julie baby. These are important facts. Can you imagine if I sent these twin babies ruby birthstones from all of us when I actually should have sent alexandrite? Kill me.
A source told People Amal "has let everyone in both families know quietly," and, whether or not that included Julie Chen, the source added family members are "all very happy."
Though George told the magazine back in 2006 he doesn't "have that gene that people have to replicate," the tides appear to have turned for the Oscar winner.
At the time, he also mentioned,
I think it's the most responsible thing you can do, to have kids. It's not something to be taken lightly.
Meeting Amal certainly changed the actor's expectations for his own future. In 2015, a married George said,
I've always been an optimist about the world. I wasn't always completely optimistic about how it was going to work out personally for me. But now I am.
Anyone worried about George becoming a late-in-life poppa can chill. The man has more money than God and a tiny old ass that still. won't. quit.
He's going to live forever.
Citations: George & Amal Clooney Are Having TWINS! (Perez Hilton)